Establishing Your Family Partnership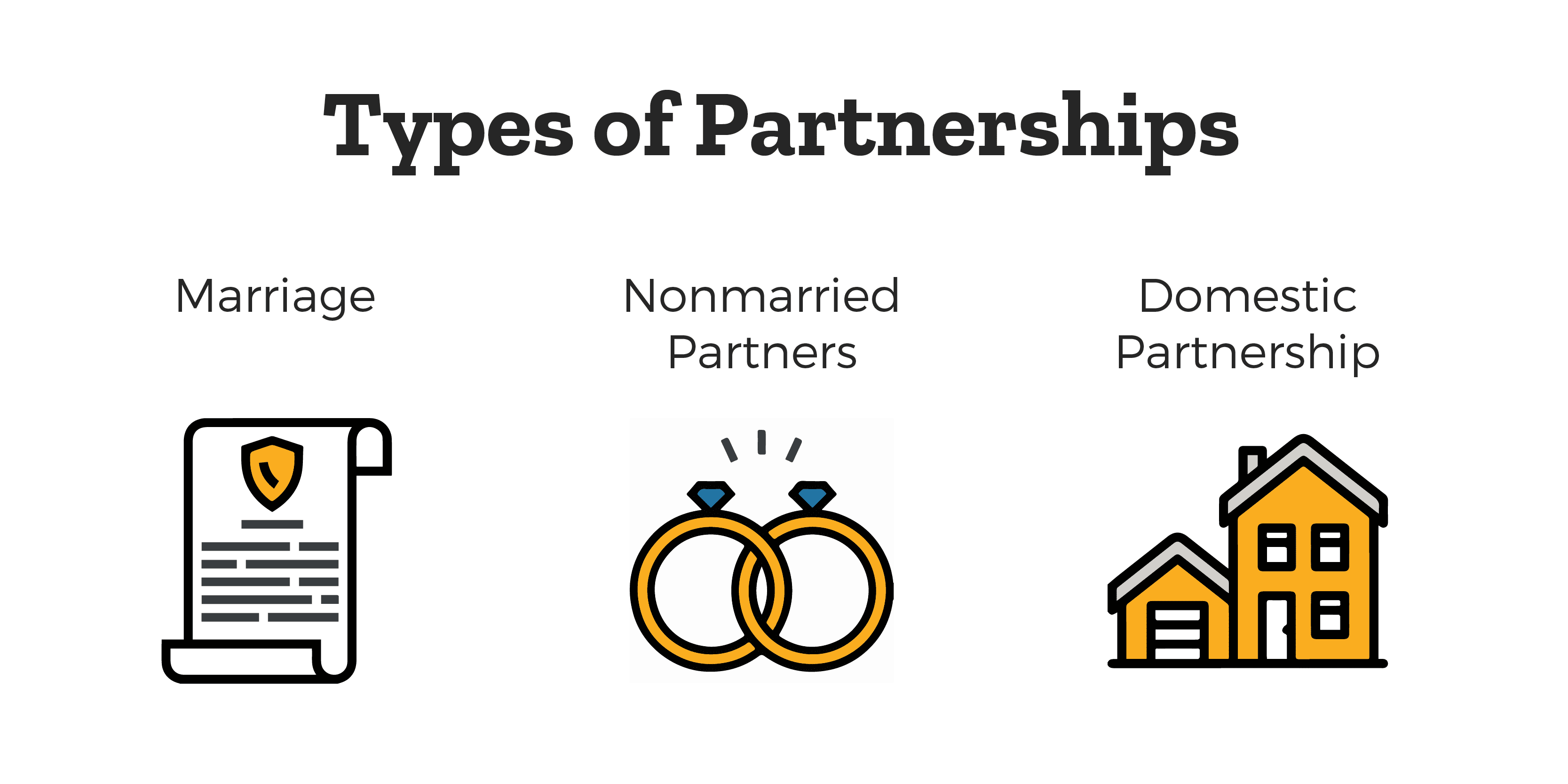 Marriage
Marriage is the legalized union of two people of age and consent. Being married is a protected legal status, and as such, states can regulate married people's rights and responsibilities under the law.
The first way states regulate marriage is by placing minimum age limits. Most states require that a person be at least 18 years old. The reasoning is that a minor (under 18) lacks maturity and cannot consent to such a major life decision yet. In rare situations, however, some state courts will allow a person slightly under 18 to marry if they have parental permission.
States also require that everyone have the right state of mind or mental capacity to enter marriage. The legal version of "mental capacity" means that someone must first understand what marriage is, and secondly, freely agree to enter it. Metal capacity is not to be confused with a person who is just making a bad decision; rather, someone without mental capacity lacks the ability to make any decision.
Additionally, states regulate that a person cannot marry a blood relative and limits that only two people can be in a marriage. Bigamy or polygamy is not legal in any state. If a married person wishes to marry another, they must first dissolve their current marriage before entering another.
The U.S. Supreme Court protects marriage as a "fundamental right" for all. The Supreme Court has extended this right to interracial couples (Loving v. Virginia, 1967) and "prisoner marriages" (the government is not allowed to block an imprisoned citizen from entry into marriage).
Recently, the Supreme Court ruled that marriages between same-sex couples are valid in all states. However, the majority of states do not recognize common-law marriages, domestic partnerships, or any other marriages based on the circumstances surrounding the couple, such as cohabitation, marital children, and asset sharing. The vast majority of states require a licensed, ceremonial marriage for the marriage to be officially recognized by the state. The Supreme Court tends to strike down laws that impose restrictions on marriage based on the idea that they violate constitutional privacy guarantees.
Before 2013, gay marriage was not included as a protected right across the U.S., and same-sex couples would instead enter a civil union, domestic partnership, or marry in a state or another country but not have the marriage recognized throughout the U.S. However, the Supreme Court, in the 2013 landmark case United States v. Windsor, mandated the federal government recognize same-sex marriage as included under the fundamental right to marry.
Other constitutional protections extended to family relationships include the marital "right to privacy," the right to use contraception and reproductive choice, and the parental rights to decide the care, custody, and control of children.
Nonmarried Partners
In a few states, some couples who are not married legally can still be recognized by law as married via a common-law marriage. Only some states recognize common-law marriages; however, once a common-law marriage is valid in their home state, it will be recognized in every state. Common-law marriage can exist when there is consent (to enter an exclusive relationship), cohabitation, and a public "holding out" that they were married. Examples of "holding out" include calling each other "husband" or "wife" in public or by having a joint bank account.
A domestic partnership is a situation where two people live together (not married) and are in an intimate relationship. Unless they are in a jurisdiction that recognizes their relationship as a common-law marriage, people who merely cohabitate do not get the full rights of married people.
Sometimes, people in a domestic partnership will create an express contract (e.g., a "cohabitation contract"). Under contract law, courts will enforce express agreements between people as long as there was no negotiation for sex or sex acts. However, courts will not step in and adjudicate for just an "implied agreement" (e.g., no contract). If the parties were once engaged, however, and there were gifts given in contemplation of a marriage, those gifts must be taken back if the marriage never happens (e.g., a court will order the return of an engagement ring).
Financial Agreements
Many people enter into an ante-nuptial or premarital contract (otherwise known as a prenuptial) before marriage. These contracts consider what will be done with property and finances in the event of a divorce. The big issue is whether the agreement will hold up in court. Premarital contracts are valid like any other contracts; however, as many people will be involved in angry divorce cases, it is best to know what makes a prenuptial valid beforehand.
A prenuptial first must be recorded in writing (no oral contract) and entered voluntarily. It must contain full disclosure of both parties' finances and property, be fair and reasonable, and both parties should have had at least the opportunity to independent lawyers for counsel.
Additionally, becoming more frequent these days are postnuptial contracts. These are contracts made after the date of marriage. The purpose of a postnuptial is the same for a prenuptial; however, many times, the financial situation has changed since the marriage date or the parties did not think of doing it before marriage and now wish to do so.
An ante-nuptial marital contract can also be useful as a way of estate planning in that it will dispose of property at death in a way that would not normally happen without the contract.
Dissolution of Marriage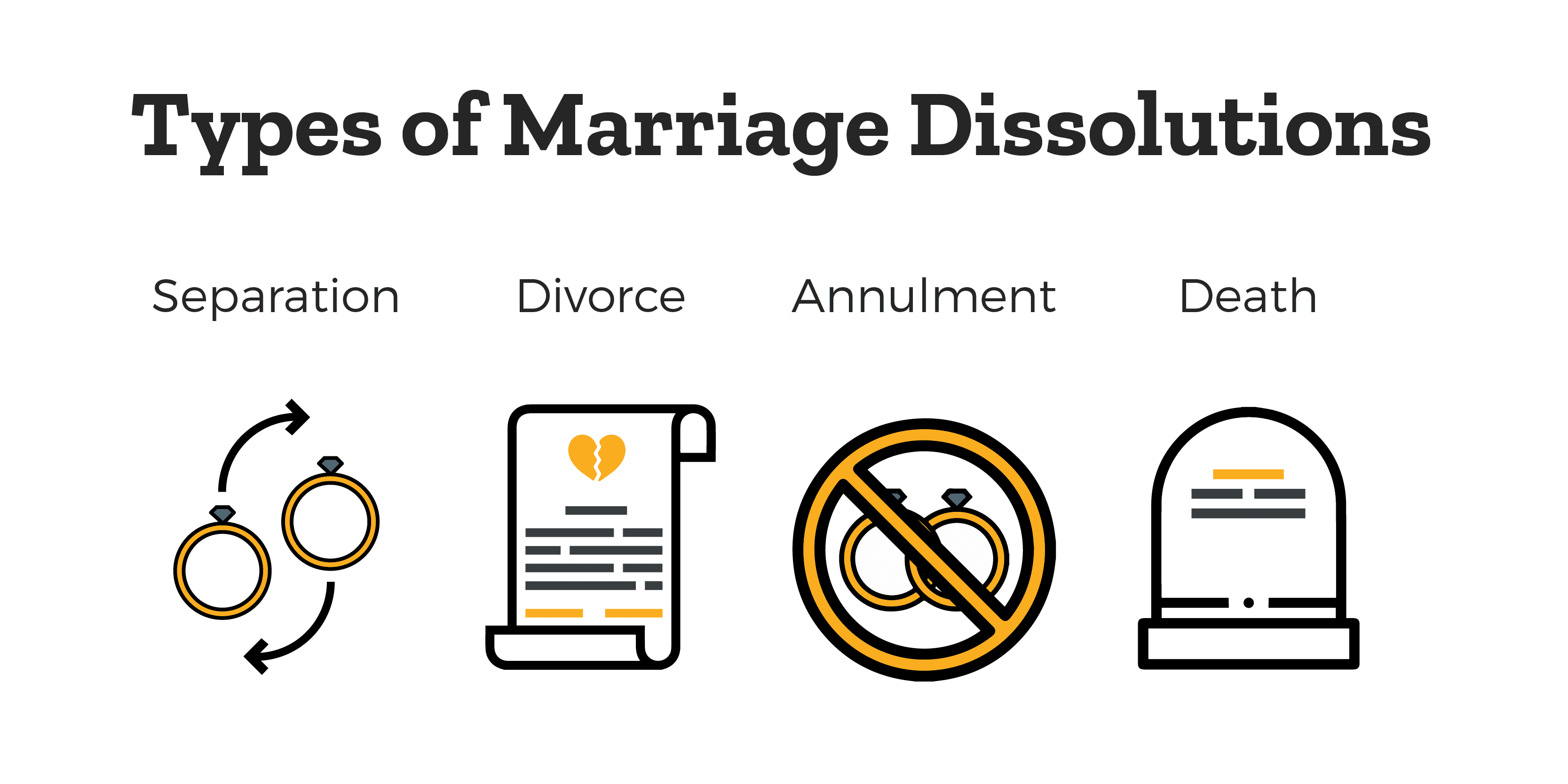 Generally, there are four ways that a marriage can end or be dissolved. The three most common in American law practice are separation, divorce, annulment, and death. Legal separation does not effectively end a marriage, and divorce cases in the U.S. require state intervention. Thus, divorce cases are a significant source of employment for family law attorneys and law firms nationwide. However, all family lawyers and law firms are governed by the terms of their respective bar associations. Every state in the U.S. has abandoned the previous fault-based divorce standard, which required one party to demonstrate that the other party had acted or failed to act in a manner that was consistent with a failed marriage.
Separation
In a legal separation, matters such as property, custody, and child support are determined by the court, yet the parties are also still legally married. Usually, this step is taken by partners who need time to reflect and possibly work things out, yet they are living apart and need the court to split up and enforce financial and custody concerns. It is not dissolution of marriage.
Additionally, people might have other reasons to remain legally married such as religious beliefs, tax benefits, inheritance, and health insurance.
Divorce
In cases where the dissolution of marriage is inevitable, divorce is the legal option to sever ties. Today, most people will file a "no fault" divorce, which means that the marriage was irretrievably broken for at least six months. Traditionally, divorce cases needed proof of marital fault. Now, fault-based divorce is not that common but still an option in a few states.
Traditional fault-based divorce grounds include:
Adultery
Abandonment
Insanity (incurable insanity for the statutory period)
Cruel and inhumane treatment
Drug addiction or drunkenness
Imprisonment of spouse: Spouse had been in prison for the statutory mandated time
Fault-based divorce cases automatically open the door to litigation in which the other party either defends themselves and/or makes additional fault allegations about the other party.
However, there is no defense available in a "no fault" divorce unless, of course, one denies the facts presented don't exist. As such, many times even when a person feels they have a good fault-based case, such as proof of infidelity, many still decide to file the "irreconcilable differences/no fault" option instead. This is simply because proving marital fault in family court will ultimately be a longer, more expensive, and emotionally charged battle. It is much more likely a person will have to engage with a family law attorney to provide legal advice and representation in a fault-based divorce than in an uncontested "no fault" action.
Annulment
Annulment generally means that a marriage is voided (canceled) as if it never took place. It is worth noting that there is a significant distinction between a voidable marriage (may be voided potentially) and voided marriage (already canceled).
To receive an annulment, one can state any of the following reasons:
Fraud
Lack of capacity (e.g., intoxication by drugs or alcohol)
Prior existing marriage (one spouse is already married)
Parties are related to each other/incest
Duress (threats of economic and/or physical detriment)
Coercion
Impotence
One common question is: If married people have children, then get their marriage annulled, are the children considered "born out of wedlock"? In this case, the children would be considered "marital children" regardless of the annulment. Additionally, any child custody issues will proceed in the same way as if the children were parties in a divorce action, not an annulment.
As for property division in annulments, most courts will set to restore parties back to the same position they were in before the marriage occurred (e.g., the separated property remains separate). Regarding alimony, if the marriage is void, it never existed, so there will be no spousal support award. Alimony is specific to married parties ONLY.
Domestic Violence
Domestic violence is generally known as violence committed between married people or even between unmarried people who are cohabitating. This definition could include various forms of child and/or spousal abuse. Domestic violence plays a role in many divorce cases and civil family law matters. However, domestic violence has a basis in criminal law in every state. As a result, domestic violence carries criminal penalties like incarceration. Thus, a judge may consider domestic violence as a factor when making decisions relating to virtually any type of civil family matter. This is particularly true when a family case involves minor children who share a home with a domestically violent offender.
In domestic violence cases, a commonly granted form of relief is the injunction. Within the context of domestic violence, an injunction may require that the offender maintain a specific distance between themselves and the victim(s) for a specific period. Courts tend to be particularly inclined to grant injunctions in cases involving child abuse.
Economic Issues Surrounding Termination
Along with a formal dissolution of marriage, a family court might also have to determine property division, and spousal or child support.
Property Division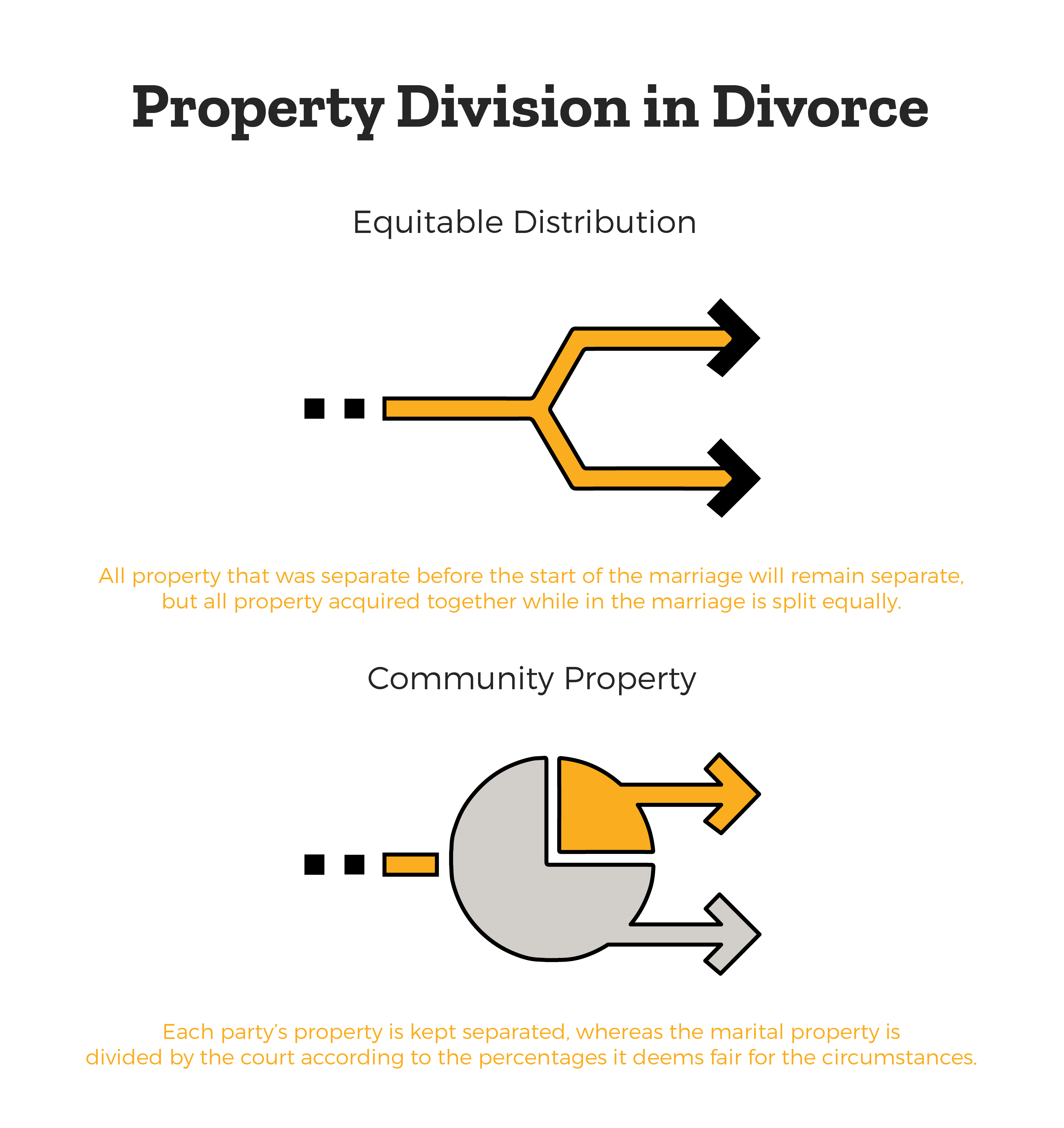 The distribution of assets in divorce is determined by what is fair, based on if the divorce action is filed in an "equitable distribution" system or a "community property" state. In a community property state, all "marital property" will be divided 50/50 between each party. All property that was separate prior to the start of the marriage will remain separate, but all property acquired together while in the marriage will be split equally.
Most states, however, are not community property states but look at the equitable distribution instead. In this approach, the family courts will look at what assets are separate property and what is to be considered as marital property. Each party's separate property is kept separated, whereas the marital property will be divided by the court according to percentages it deems fair to the circumstances.
For example, if a married couple purchases a home in which they both live, this would be considered marital property. However, if one spouse inherits a piece of jewelry from a relative intended to be a gift for that spouse alone, a court would be unlikely to consider this to be marital property.
Spousal Support
Alimony is a court-ordered form of financial support in which one spouse (or former spouse) pays support to another. Alimony is based on the premise that one spouse has a need, and the other spouse has the ability to pay. There are several types of alimony which are awarded based on the specific circumstances in every case. A court may grant a support order based on factors such as the duration of the marriage, the finances of both parties, and whether one spouse is beginning a new career.
Alimony can be permanent (usually only for older couples, who were married at least 20 years), reimbursement alimony, or rehabilitative (for a short period of time only to let the receiving party get back on their feet and re-enter the workplace.) Alimony payments can terminate early when either the paying party dies or the receiving party remarries or cohabitates with another person.
Also, a minority of states recognize palimony rights. Palimony is another form of support paid between unmarried people who cohabitate, such as in a common law marriage. In such cases, a court may consider the same or similar factors as it would for a married couple when determining the amount of the award. Alimony and palimony may be modified upon a showing of a substantial change in the payer spouse's circumstances, which significantly affects their ability to pay (e.g., unemployment).
Parenting
Family courts have unanimously adopted what is known as the "best interests of the child" standard. This standard is based on the idea that the child's needs and well-being are to be considered of the highest priority by the court due to a child's general inability to legally defend him- or herself. This term is very broad in scope because it was intended to empower family courts to weigh decisions most heavily in favor of supporting children, as compared to all other aspects of a family law matter. If a court finds that the best interests of the child are at stake, a court may impose a child custody order, remove a child from a parent's custody, or even go as far as to involuntarily terminate a parent's rights to their child(ren) entirely.
Child Support
Every parent has a responsibility to economically provide for their children. It is best if both parents work together and decide out of court the parenting plan and support. However, the court can determine, by looking at the standard of the best interests of the child, the amount of money needed.
To determine the child support order, some state courts just look at the obligor's income and expenses; whereas other states use a "shared income" test, which takes into calculation the needs of the child compared with each of the parent's incomes and determines the difference for the obligor to pay the custodial parent. The factors when calculating child support are the parent's employment, expenses of parties, and the age and needs of the child(ren). Child support can be modified anytime; if there is a "substantial change of circumstances that affects the ability to pay," the amount can either be lowered or increased. Factors looked at include:
Sudden unexpected change in employment (e.g., Person got a better job or is unemployed beyond "temporary absence")
Retirement
Disabling illness (Permanent inability to work)
Growing family/Responsibility to new child(ren)
If there is indeed a sudden change that is not temporary and affects the ability to pay, the support order will be adjusted. Child support is most often terminated when the child reaches the age of maturity (18 years old).
Nonmarital Children
A child is "non-marital" if the child was born to parents who were not married. A non-marital child's status can change, however; if the parents get married after the birth of the child, it retroactively makes the child "marital."
The United States Supreme Court has ruled that nonmarital children should have the same rights as children born from a marriage. This includes issues such as:
Child support: Nonmarital child(ren) has an equal right to child support as marital child(ren)
Inheritance from father: The state cannot exclude nonmarital children in an inheritance when a father dies intestate (i.e., without a will)
Benefits: A state cannot exclude nonmarital children from receiving government benefits
The one exception where it has been allowed to give preference to marital children over non-marital children is in immigration preference, through federal immigration law.
Establishing Paternity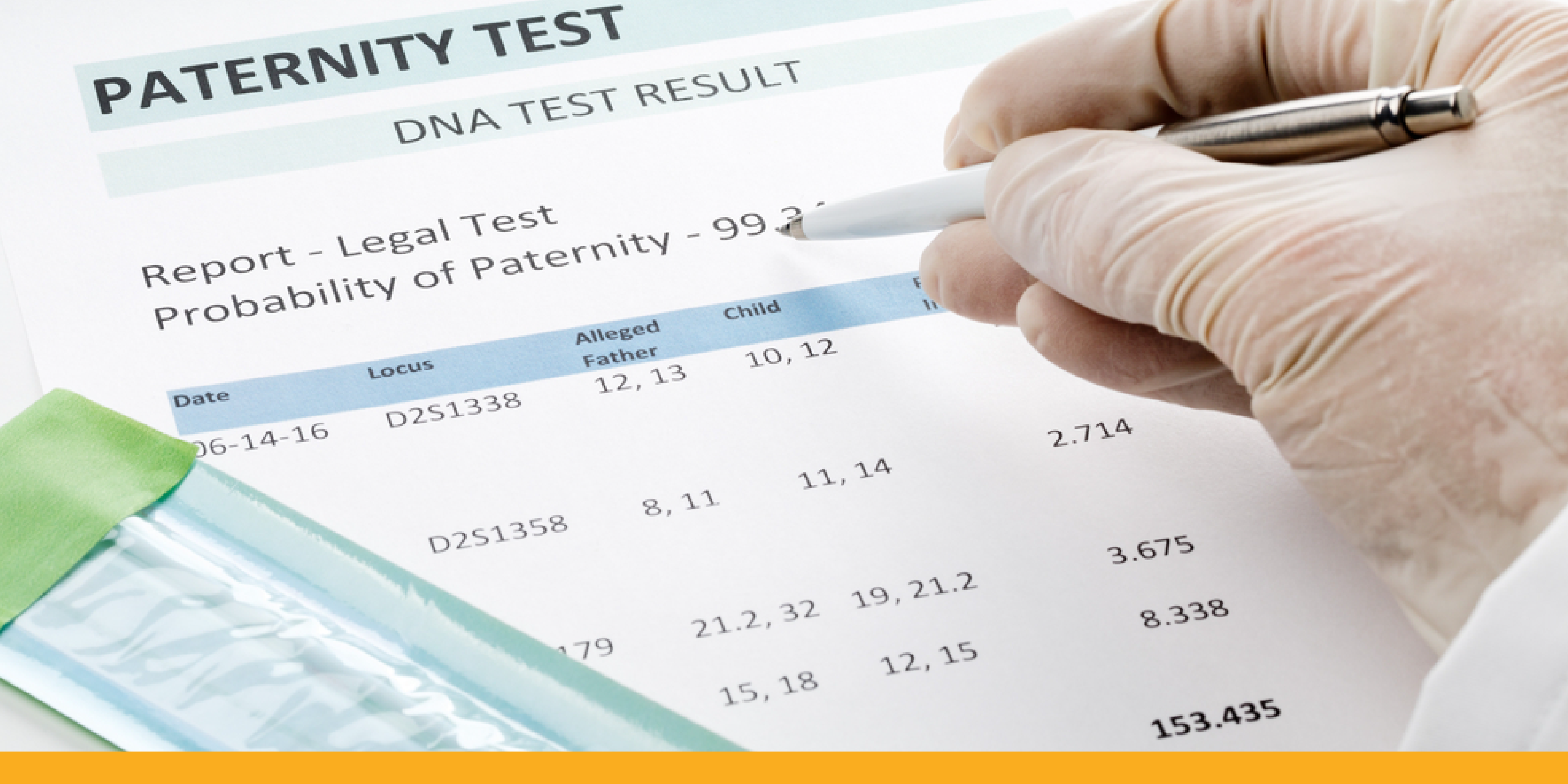 For a marital child, there is an automatic legal presumption that the mother's husband is the birth father. Outside of marriage, a child's paternity is legally recognized if the father formally acknowledges paternity or if the father consents to his name on the birth certificate.
Sometimes, however, the mother may not be certain of the father, or the man might be questioning the relations, so a judicial decree is needed to establish paternity. Either the mother, the child, or the state (if the child is a recipient of government benefits, a state can petition) can file a paternity case in the state family court. Previous laws that stated that paternity suits had to be filed within a certain time limit (i.e., by child's second birthday) have been abolished, so now paternity suits can be filed at any time during the child's minority (18 years). The court uses a "clean and convincing" standard when determining evidence of paternity with a blood test determined to be the most important factor in establishing a child's paternity.
Adoption
Adoption is a legal process whereby a biological parent voluntarily or involuntarily surrenders all parental rights associated with a parental relationship, and those rights are assigned to a new parent of which the court has approved. Once the process of adoption has been completed, a parent may not revoke or reverse the surrender of their parental rights, and the adopted child will be considered the permanent dependent of the adopted parent.
What Is a Family?
The idea of what makes up a family has evolved over time. Early attempts to define a family were generally limited to people related by blood or marriage. However, via a series of family law cases, the Supreme Court has since expanded this definition significantly to include many other forms of family relationships. Some modern examples have included same-sex couples and unrelated persons who cohabitate. This is an area of law that is constantly changing and will continue to evolve over time.