We surveyed 1,001 Americans to learn their perceptions around the coronavirus pandemic via a political lens. In this analysis we explore three questions we asked. Which drugs are FDA approved treatments, the usage of the term "Chinese virus" to describe COVID-19, and how President Donald Trump has handled the coronavirus epidemic. We have found the entire perception of the pandemic (which is a public health emergency) is driven by politics.
Americans are extremely confused about approved treatments for coronavirus
43% of Americans incorrectly indicated that there is a FDA-approved treatment for coronavirus (COVID-19).
Only 44% of Republicans know there is no FDA approved treatment.
2 in 5 Republicans believe that hydroxychloroquine is an approved treatment. This may be due to President Donald Trump mentioning it during this interview.
Shockingly, the more education people had, the less likely they were to know that there is no approved treatment. That's an enormous effect that's not easily explained.

68% of those with high school diplomas were aware of this compared to only 52% of people with bachelors degrees.
The Food and Drug Administration hasn't formally approved chloroquine and hydroxychloroquine for the treatment of COVID-19. Instead, it granted an emergency-use authorization (EUA) that allows them to be given to hospitalized coronavirus patients who can't participate in clinical trials of the drugs.
"Chinese Virus" is a wholly political invention
The controversial and arguably racist practice of referring to coronavirus/COVID-19 as 'The Chinese Virus' is incredibly polarizing across political lines.
70.3% of Republicans believe the term is appropriate
75.8% of Democrats believe the term is inappropriate
83.5% of people who approve of Trump's handling of the pandemic believe the term is appropriate
75.8% of people who disapprove of Trump's handling of the pandemic believe the term is inappropriate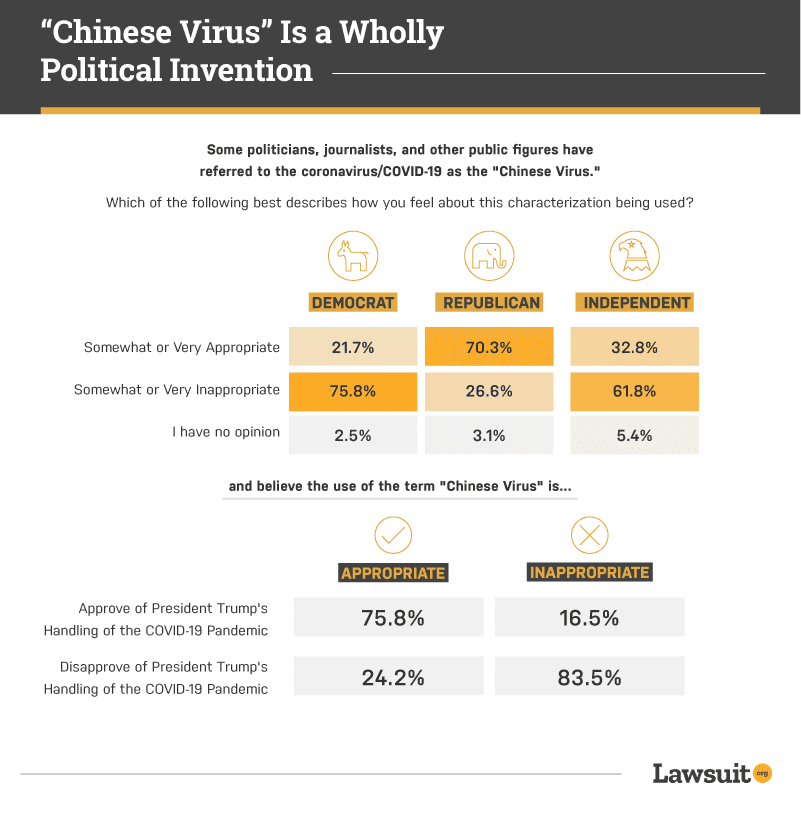 President Donald Trump's Approval Rating Amidst the Coronavirus Crisis
Republicans approve of Trump's handling of the crisis 70 percentage points more than Democrats. The reverse effect is true for disapproval.
Trump's approval rating for handling the pandemic is generally underwater with most demographic groups, especially women (57.6% disapprove) and Millennials/Generation Z (53.9% disapprove).
Methodology and Limitations
This poll was hosted on Survey Monkey with participants recruited via Amazon's Mechanical Turk service. To participate, individuals needed to be at least 18 years of age and live in the United States. All participants who failed a mid-poll attention check question were disqualified. The project surveyed the following demographics: Gender 558 Males, 443 Females, 292 Republicans, 241 Independents, 446 Democrats,33 Baby Boomers, 287 Generation X members, 561 Millennials, and 25 Generation Z members. The median age of respondents was 35 years old (middle 50% 29-45) and the median income was $45,000 (middle 50% $25,000 – $70,000). Where appropriate and noted, responses were weighted to adjust to a more normalized sample.