Statewide Domestic Violence in Florida
Florida is one of the biggest states in the U.S., its population eclipsed only by that of California and Texas. The Sunshine State – while a beautiful and exciting place to live – isn't a stranger to crime, however. While newspaper headlines may highlight the more outlandish offenses that take place within its borders, domestic violence crimes fill up police reports, too.
Domestic violence, also known as intimate partner violence, often takes place in an intimate relationship, such as a marriage or domestic partnership, but it can even happen in a family unit, such as between siblings or a parent and child. Crimes range in severity, but domestic violence encompasses a wide variety of offenses that intimidate, coerce, isolate, or control one person in favor of the other, in addition to overt physical or sexual violence.
We took a look at Florida's domestic violence offenses in 2018 to learn how it fluctuated when comparing different areas and standpoints.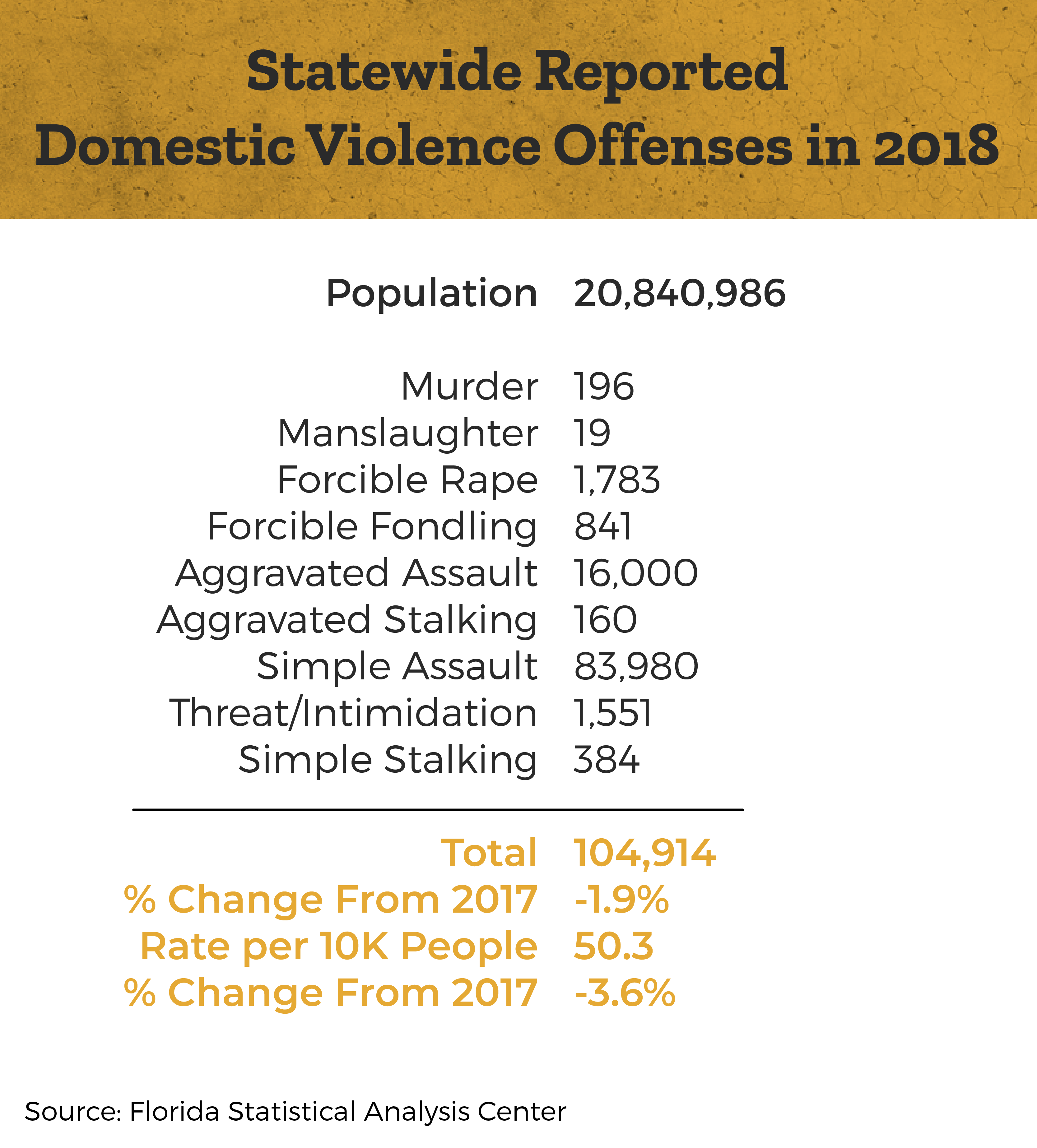 Florida has a population of over 20 million, and in 2018, there were over 104,000 domestic violence offenses recorded statewide. We broke them down by category, ranging from simple assault with 83,980 offenses to 19 manslaughter offenses. According to Florida law, simple assault is defined as "an intentional, unlawful threat by word or act to do violence to the person of another, coupled with an apparent ability to do so, and doing some act which creates a well-founded fear in such other person that such violence is imminent." A conviction for simple assault is a second-degree misdemeanor charge.
Aggravated assault differs from simple assault. Florida law dictates that aggravated assault is more serious and either involves a deadly weapon (without the intention to kill) or an intention to commit a felony. In 2018, there were 16,000 aggravated assaults.
Other offenses include forcible rape (1,783 offenses), forcible fondling (841 offenses), simple and aggravated stalking (384 and 160 offenses, respectively), threats or intimidation (1,551 offenses), and 196 murder offenses.
Relationships of Domestic Violence Victims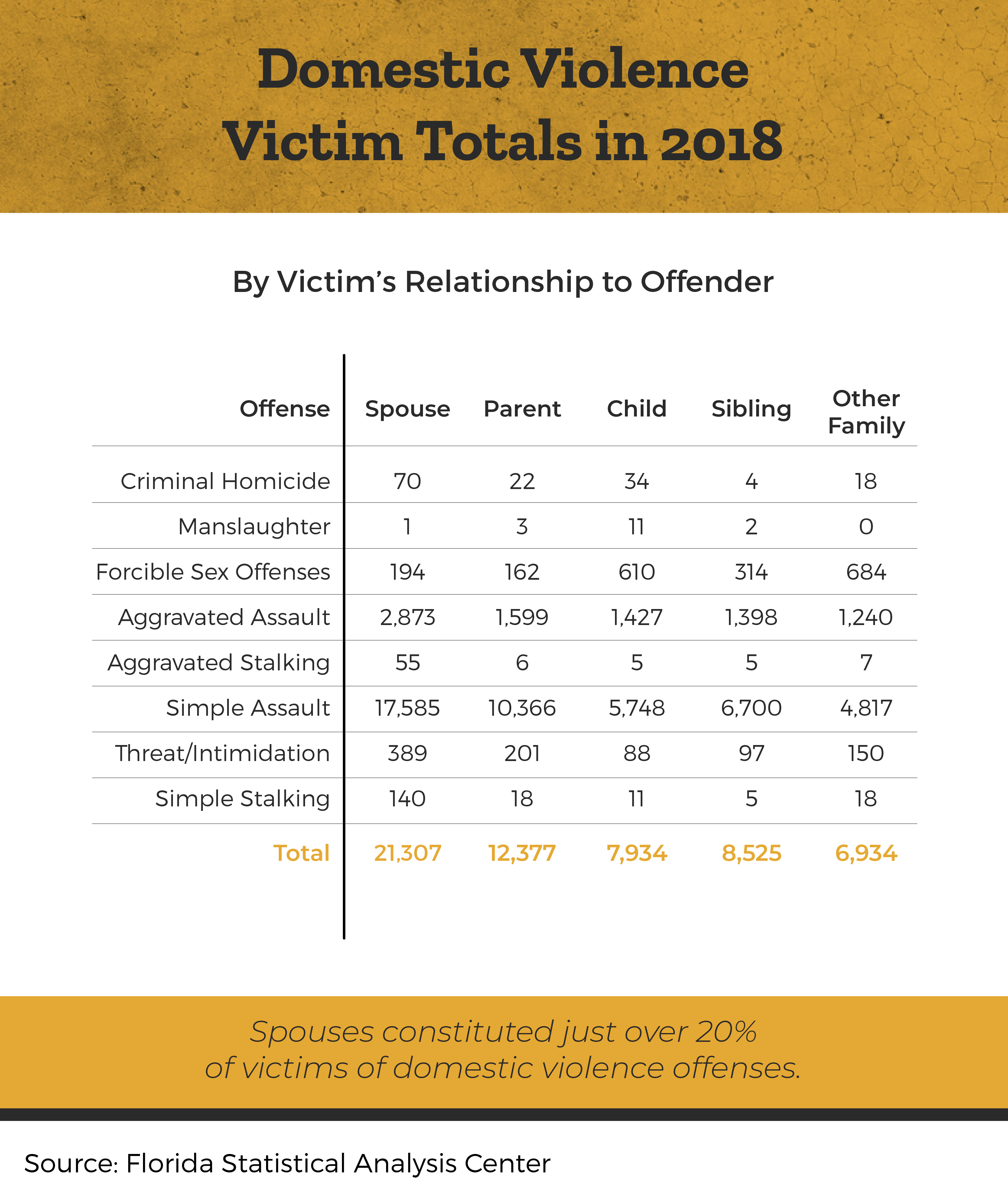 Domestic violence can take place in any close personal relationship, from spouse and partner to sibling and child to parent or another family member. We broke down victims' relationship to the offenders to get a better idea of the connection between the two.
Most domestic violence offenses took place between romantic partners, as there were more offenses between spouses in total. One exception, however, was forcible sex offenses (including rape and fondling): The largest group of victims here were children who were harmed by a parent, followed by other family members (such as a grandchild or cousin), followed by a sibling who was harmed by another sibling.
Stalking, divided between simple and aggravated, took place more often in marriages or other relationships. There are, unfortunately, many ways someone can stalk a current or former romantic partner, including following, harassing, or cyberstalking. Cyberstalking is relatively new and includes using email or other electronic messaging systems, such as texting, to cause emotional distress.
Offenses per Capita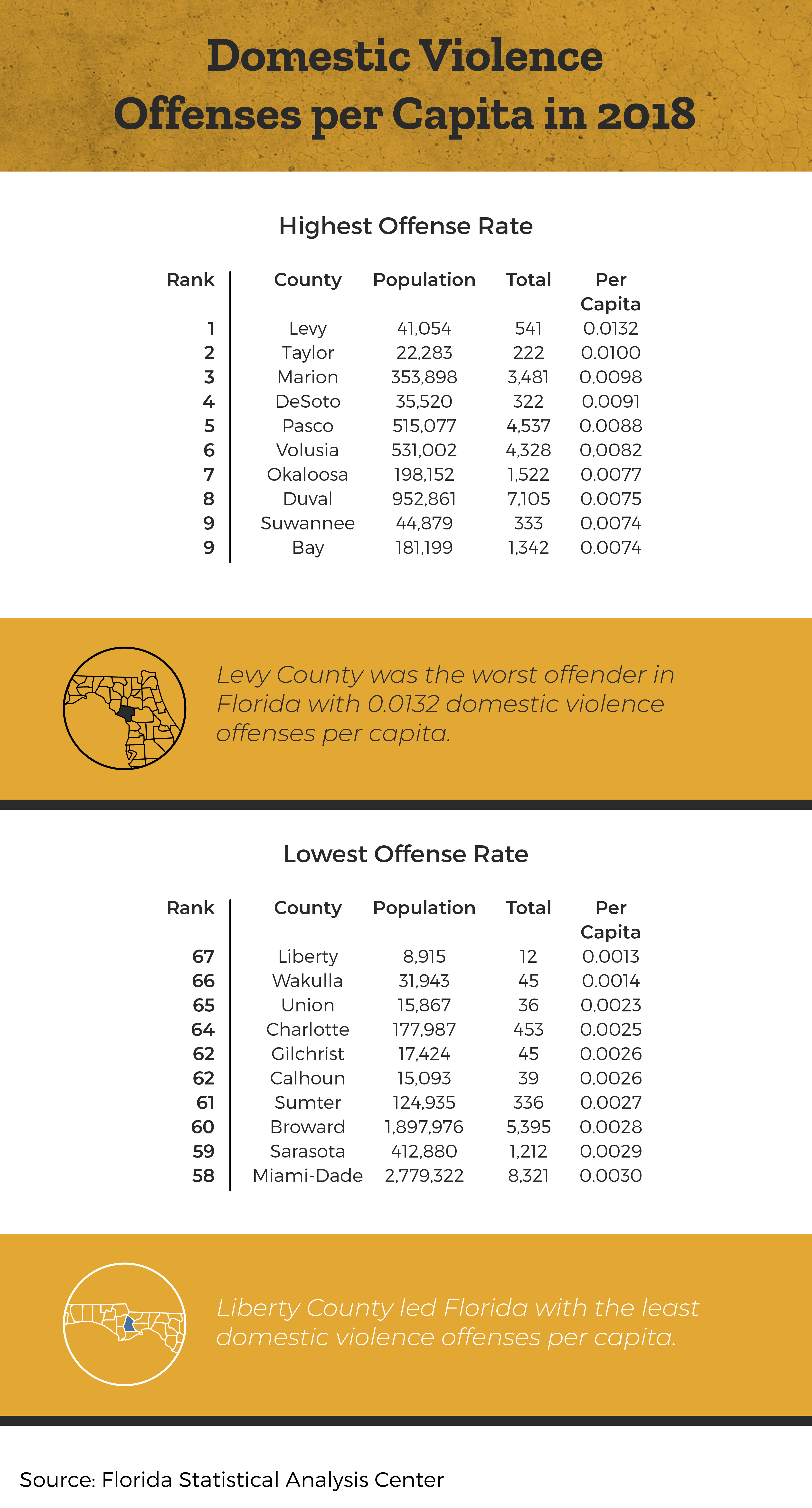 Keep in mind that just because there is a recorded offense doesn't mean the perpetrator is arrested for that crime. First, we looked at reported offenses throughout Florida county by county. Levy County had the dubious distinction of having the most domestic violence offenses per capita, while Liberty County had the fewest.
Levy County is located along the Gulf of Mexico in north central Florida and had a population of 41,015 in 2017. On the other hand, Lafayette County, the least populous county in Florida, had the lowest per-capita domestic violence offense rate.

Arrests per Capita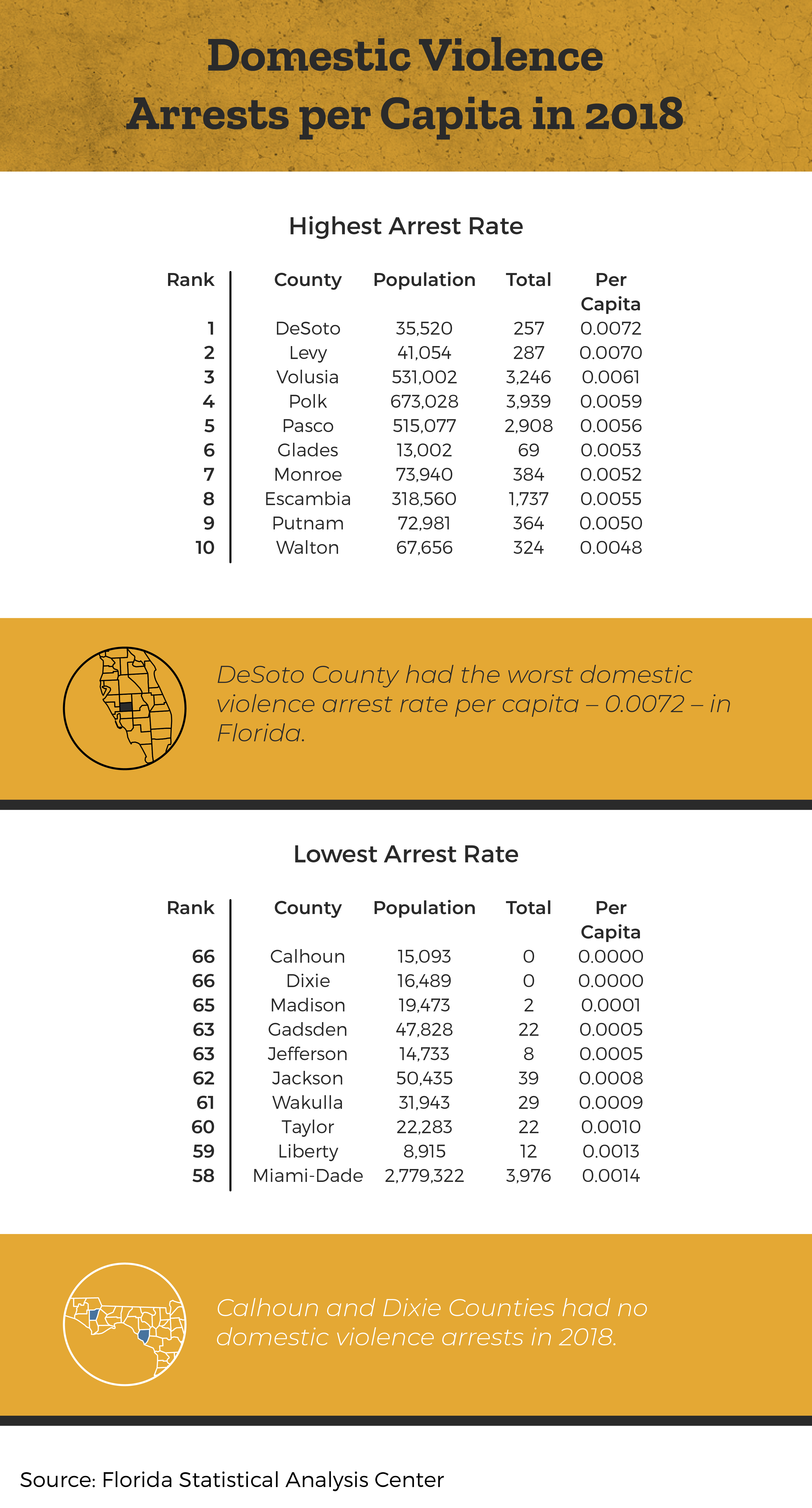 Here are the statistics that spell out the domestic violence arrest rate per capita, which is a little different from the number of offenses per capita. This time, Calhoun and Dixie Counties had fewest domestic violence arrests per capita in 2018. The county with the most domestic violence arrests per capita was DeSoto County.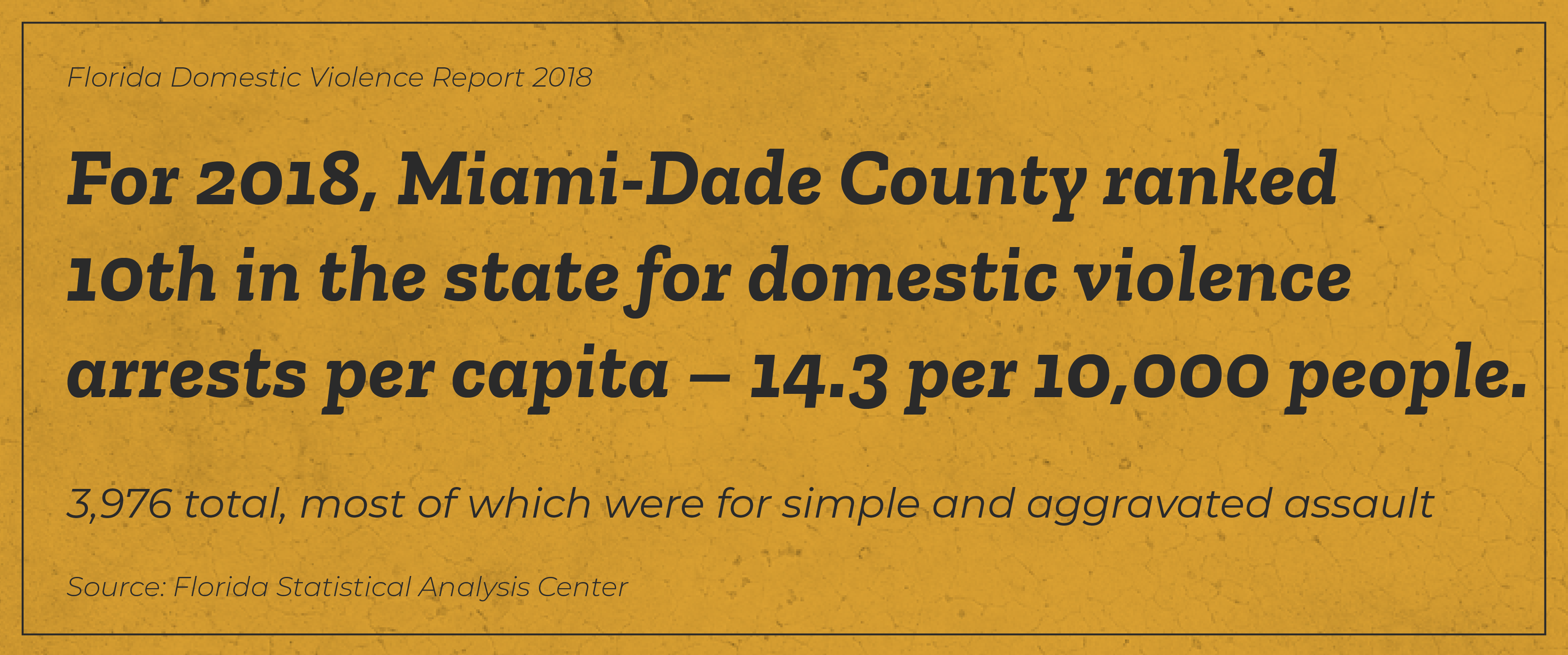 Florida at a Glance
This coded map helps us see where domestic violence arrests tend to cluster. Walton, Washington, and Wakulla Counties stand out in the western part of the Panhandle, as did Volusia County on the East Coast of the state.
How's the Ratio?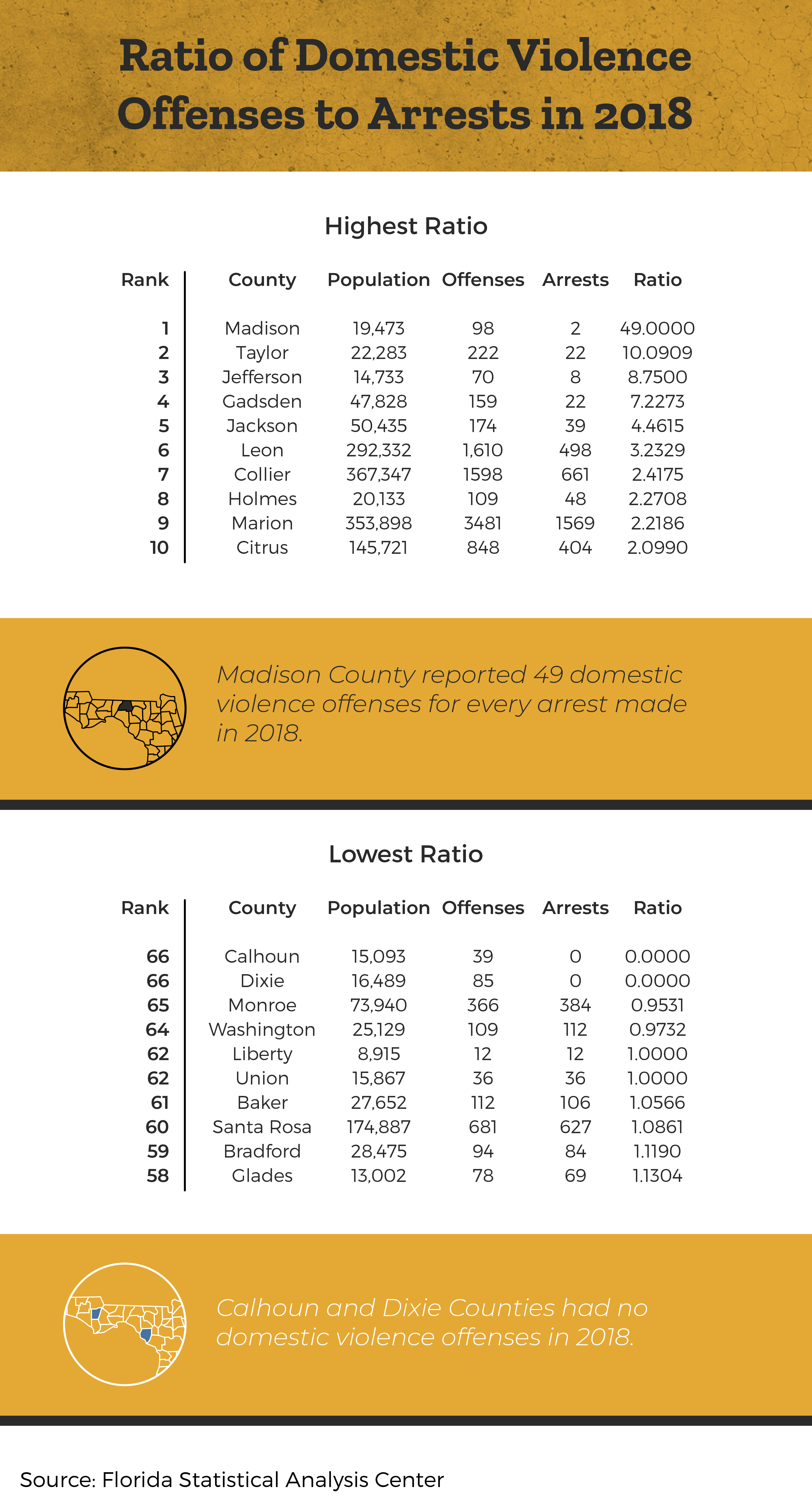 Dixie and Calhoun Counties, which had no arrests in 2018, also had the best ratio when comparing domestic violence offenses to actual arrests – after all, if your offense and arrest rate are both zero, then it's difficult to have a ratio of anything but zero.
Madison County, on the other hand, had the worst ratio in the state. Located along the northern border of the state, the county had 98 offenses with 2 arrests in 2018, which means it reported 49 domestic violence offenses for every arrest made that year.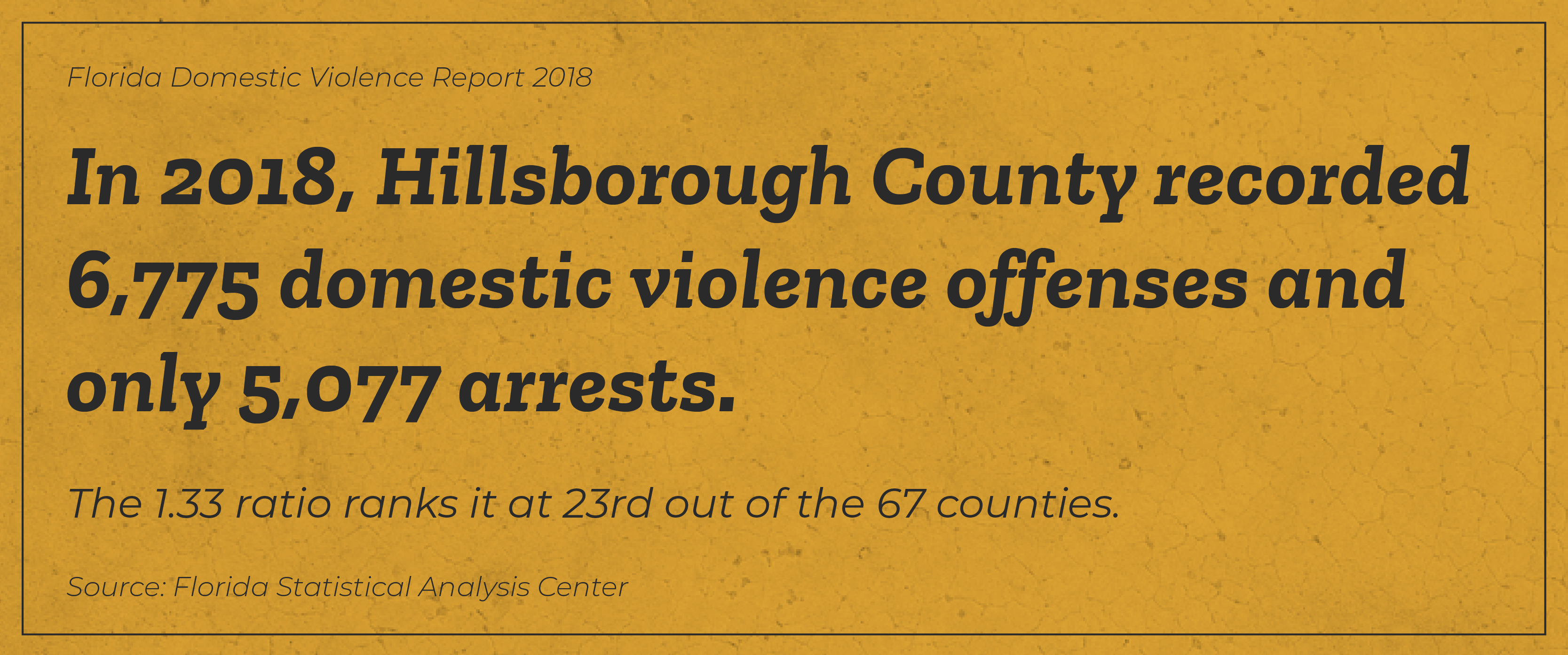 Conclusion
Overall, domestic violence offenses and arrests in Florida have decreased over the past year, increasing by -1.9% from 2017 to 2018. Additionally, the rate per 10,000 residents decreased by 3.6% over that same time frame.
Domestic violence can affect anyone regardless of socioeconomic status, race, gender, sexual orientation, or religion. In Florida, rates vary from county to county, as well as the crimes committed, and even the offenders and victims.
Sources
Fair Use Statement
If you'd like to share this article, for noncommercial purposes, please be sure to link back to this page.