In the United States, the two major political parties dictate much of citizens' conversations. And despite how adaptable our political stances can be, many hesitant to openly change their viewpoints that would put themselves on the "wrong" side of the aisle.
We know that Americans are a melting pot of beliefs, but how do those beliefs vary among political affiliations? How do we compare with our peers who vote consistently with one party over the other?

To seek out the range of convictions that we have, we asked over 600 people – across the political spectrum – how they felt the government handled a variety of topics, ranging from social to fiscal issues. Continue reading to discover the results of the survey.
Party Affiliations and Stances: How Do We Compare?
Overall, Democrats were likely to take an extremely unfavorable view of the government's role: Over 70% of self-identifying Democrats agreed that the government glaringly mismanaged issues relating to gun control and climate change. In fact, most Democratic respondents believed that the government handled various issues "poorly" or "very poorly."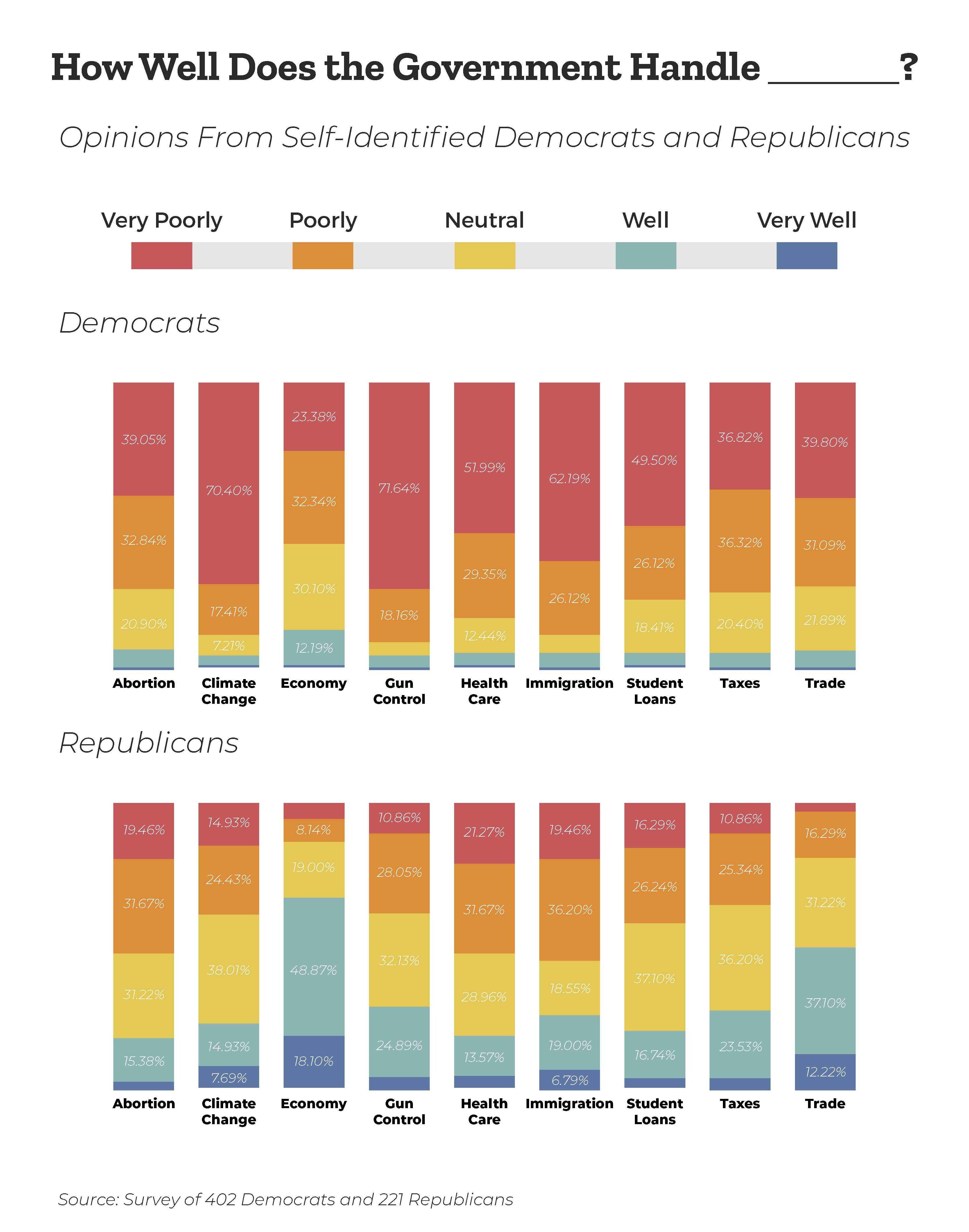 Between accusations from government scientists of the Trump administration deliberately shutting down and manipulating scientific research to the public outcry directed toward elected officials to create gun control regulation, many left-leaning Americans seem frustrated with the stagnant inaction of the government to solve these issues.
Across partisan lines, though, few right-leaning respondents believed that the government handled any issue very well, although economic policy was most likely to be viewed favorably. Nearly half of Republicans said the government is doing well in keeping the economy strong, and nearly 1 in 5 Republicans chose "very well" for this issue. The economy is showing signs of strength, highlighted by a 50-year low in unemployment and GDP growth driven by strong consumer spending.
Republicans were most critical of the government when it came to immigration and health care, with over a fifth of Republican respondents viewing the government's response to the health care crisis as "very poorly." After multiple repeal attempts to eliminate the Affordable Care Act, the continued efforts by the GOP to bring the health care debate into 2020 are ramping up.
Interestingly, when it came to immigration, self-identifying Republicans were pretty split on the issue. High-profile cases such as the mistreatment of asylum-seeking migrants and poor conditions in detention centers have brought a negative light to the way the government has approached immigration.
Trust and Confidence: Government and Media Approval
Trust between elected officials and constituents means that Americans ought to be able to put faith in politicians to advance policies that will benefit the people first and foremost.
However, not everyone is confident that our representatives are acting in our best interests: Over 50% of Republican respondents and more than 86% of Democratic respondents were either somewhat or not at all confident in the government.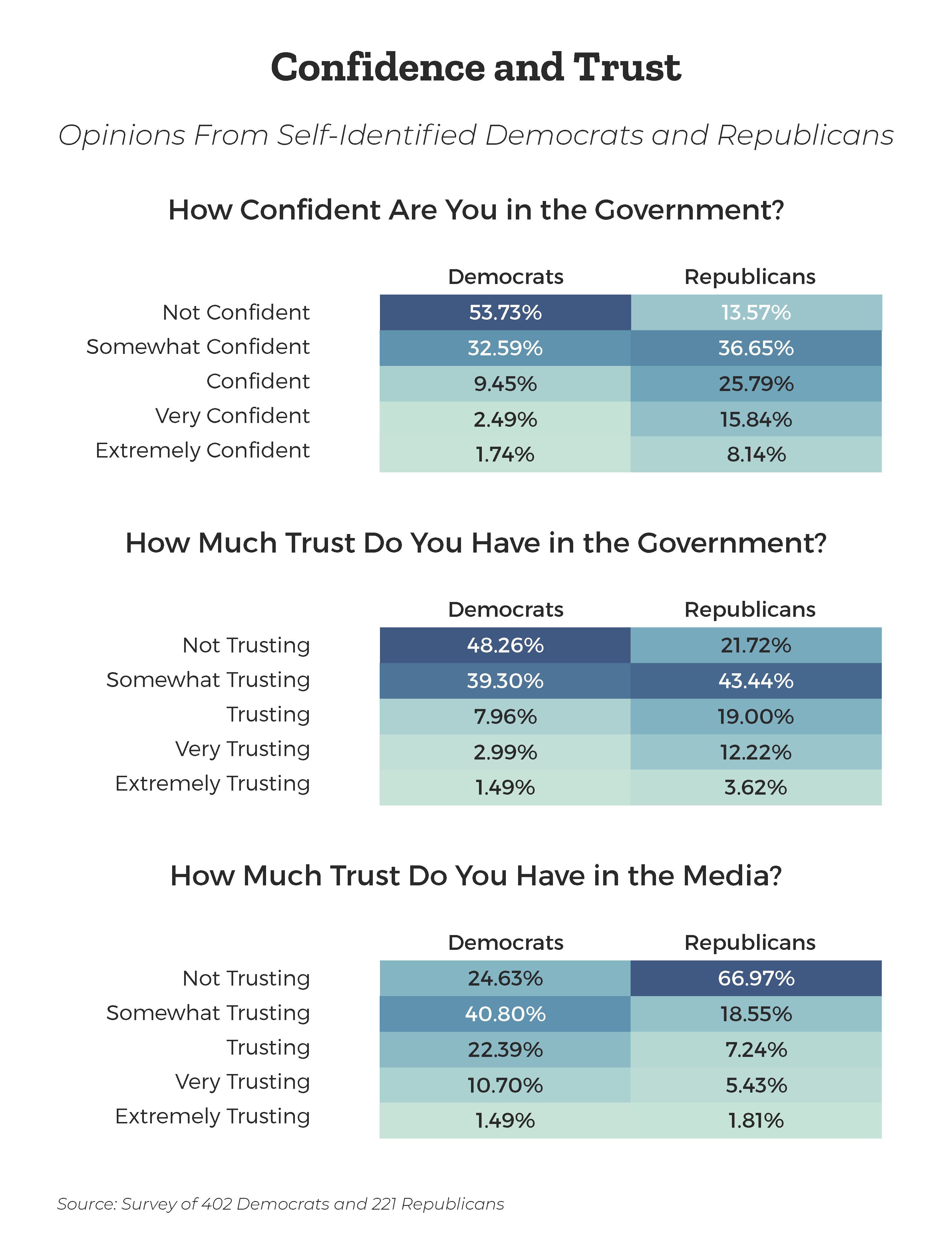 Americans can barely trust each other, so it makes sense that survey respondents didn't have much trust in the government: Over 87% Democrats and around 65% of Republicans agreed that it's difficult to trust the government.
This can come down to how constituents view their elected officials and their ability to solve the problems facing the nation. As President Trump's approval ratings descend back into the 30% range, many people are now questioning the administration's ability to handle national problems through diplomatic means.
Although the First Amendment allows the media to report on the news and current events freely, the relationship between the people (especially Republicans) and the media is strained: In fact, nearly 67% of self-identifying Republicans reported not trusting the media whatsoever. Between fabricated stories designed to mislead and authoritative reporting being labeled as "fake news," the role that the media plays in today's society has definitely been redefined.
Politics, Trust, and Confidence: Can We Find Common Ground?
The way the American people interact with the government is usually through contacting elected officials, responding to public policy changes, and taking up social media activism to bring attention to important causes. Overall, our survey found that Democrats and Republicans had varying levels of difficulty when trusting or remaining confident in the government's ability to resolve the issues that are facing us today.
Fair Use Statement
The next time you find yourself in a conversation about politics and things get a little hectic, calm the tension by sharing some of these data points. We could all use a reminder mutual understanding on political topics is possible. But be sure to cite us when mentioning our research and to only share for noncommercial use.