What Is A H-1B Visa?
An H-1B is available to employers who are in need of specialized expertise required to perform a job function within an industry of significant technicality. In certain cases, employers in the United States may need to gain access to foreign workers who can provide highly specialized labor that may not be available domestically. In these cases, a possible solution is an H-1B visa (or H-1B).
---
Jump to: H-1B Visa Cap | Occupation Eligibility | Employee Eligibility | Application Process | Immigration Lawyer Guides
---
These fields are generally referred to as specialty occupations, and they may include finance, health care, development, or any other profession that usually requires a bachelor's degree or higher.
However, workers who possess an extraordinary capability based solely on technical experience may be considered without possessing an advanced degree. Notably, an H-1B is not a path to citizenship or permanent residency in the U.S., and they may only be obtained by employers (workers may not apply directly). However, an H-1B holder may concurrently or subsequently apply for lawful permanent residency (also known as a green card).
H-1B Visa Cap
Like other types of visas, an H-1B is subject to a visa cap. This means that a limited number of visas may be made available annually (approximately 85,000). As a result, obtaining an H-1B is somewhat unlikely. This makes an H-1B a much less attractive choice for employers.
If successful, an H-1B visa duration can last three years, with the option to be renewed for up to six years. Employers can apply as early as six months before the issue date of the visa. Recently, this maximum limit has been met each year. Accordingly, a lottery is held to distribute H-1B visas that have been made available.
H-1B Visa Occupation Eligibility
H-1B preference is given to workers possessing expertise in specialty occupations. U.S. Citizenship and Immigration Services (USCIS) defines specialty occupations as follows:
Specialty Occupations: Typically, companies file for individuals to come to the United States to perform services in specialty occupations. These positions normally require bachelor's degrees (or higher) in a specialty field.
Department of Defense Cooperative Research and Development Projects: Individuals who will be engaged in cooperative research and development projects administered by the U.S. Department of Defense are eligible.
Fashion Models: Individuals who are fashion models of distinguished merit and ability are eligible.
H-1B Visa Employee Eligibility
To qualify for a specialty occupation, you must meet one of the following criteria:
You must have an employer-employee relationship with the petitioning U.S. employer.
Your job must qualify as a specialty occupation by meeting one of the following criteria:
Positions that do not qualify as specialty occupations, or for which the candidate is not qualified for an H-1B visa, may be authorized via an H-2B visa. Alternatively, applicants who are ineligible for H-1B visas may also apply for an L-1 visa.
H-1B Visa Application Process
To begin the application process, the employer must:
Complete Form I-129, Petition for a Nonimmigrant Worker: Review the instructions for and complete Form I-129 and related supplements.
Submit the filing fee(s): Include the appropriate filing fee with Form I-129, including the biometric services fee (if applicable). Refer to Form I-129 instructions for further details.
Submit Evidence: Include all required initial evidence and supporting documentation.
Sign and file Form I-129: File the petition at the correct filing location according to form instructions.
Note: The initial duration of stay in the United States can be up to three years with subsequent renewals not to exceed six years, with certain exceptions.
Once USCIS receives your Form I-129, they will process your petition, and you and the employer will then receive:
A receipt notice for your Form I-129, Petition for a Nonimmigrant Worker, and
A notice for your biometrics services appointment date
A written notice of a decision
If you wish to continue to live in the U.S. beyond the six-year renewal limit, your next option is to apply for lawful permanent residency. If you do not gain permanent residency before your H-1B expires, then you must leave the U.S. for a minimum of one year before applying for another H or L visa.
H-1B Application Analysis
United States immigration law specifically outlines who can legally work and reside in the U.S. For these purposes, there are a wide variety of visas, which allow for a foreign person to visit, enter, and live in the U.S. Visas are divided into two categories: nonimmigrant and immigrant.
In this article, we'll be looking at one particular type of nonimmigrant visa, the H-1B. This visa is a type of temporary worker visa that allows an individual to travel to the U.S. to work in a specialty occupation. Not just anyone can get an H-1B visa – it requires the recipient to have a university degree (or an equivalent) and often includes physicians and those who work in IT. H-1B visa holders must also already have a relationship with an employer. They're not considered permanent residents, as they're only in the country for a fixed period of time.
Let's take a look at how H-1B visa holders work in the U.S., how much money they earn, and which companies they work for.
H-1B Visas and Salaries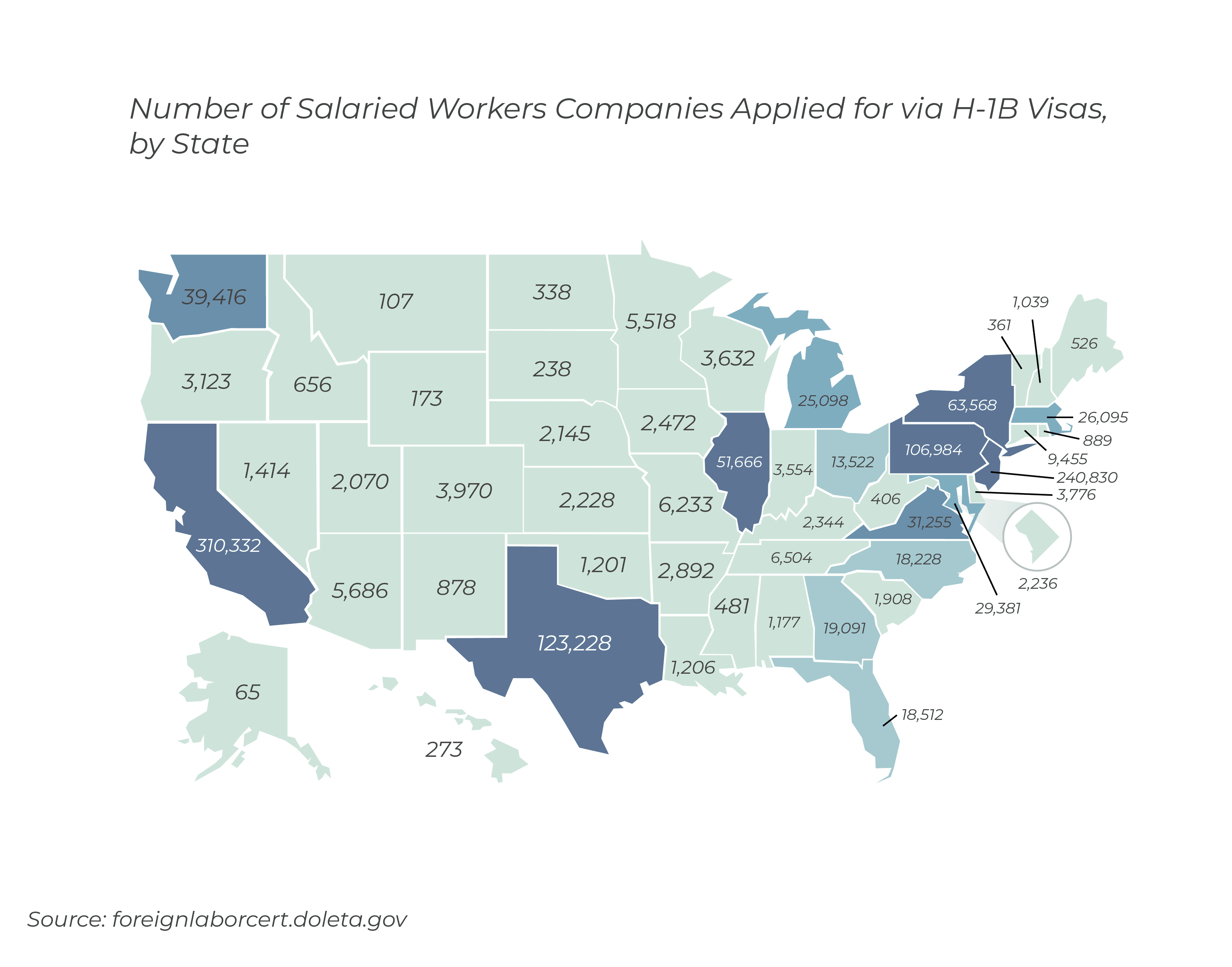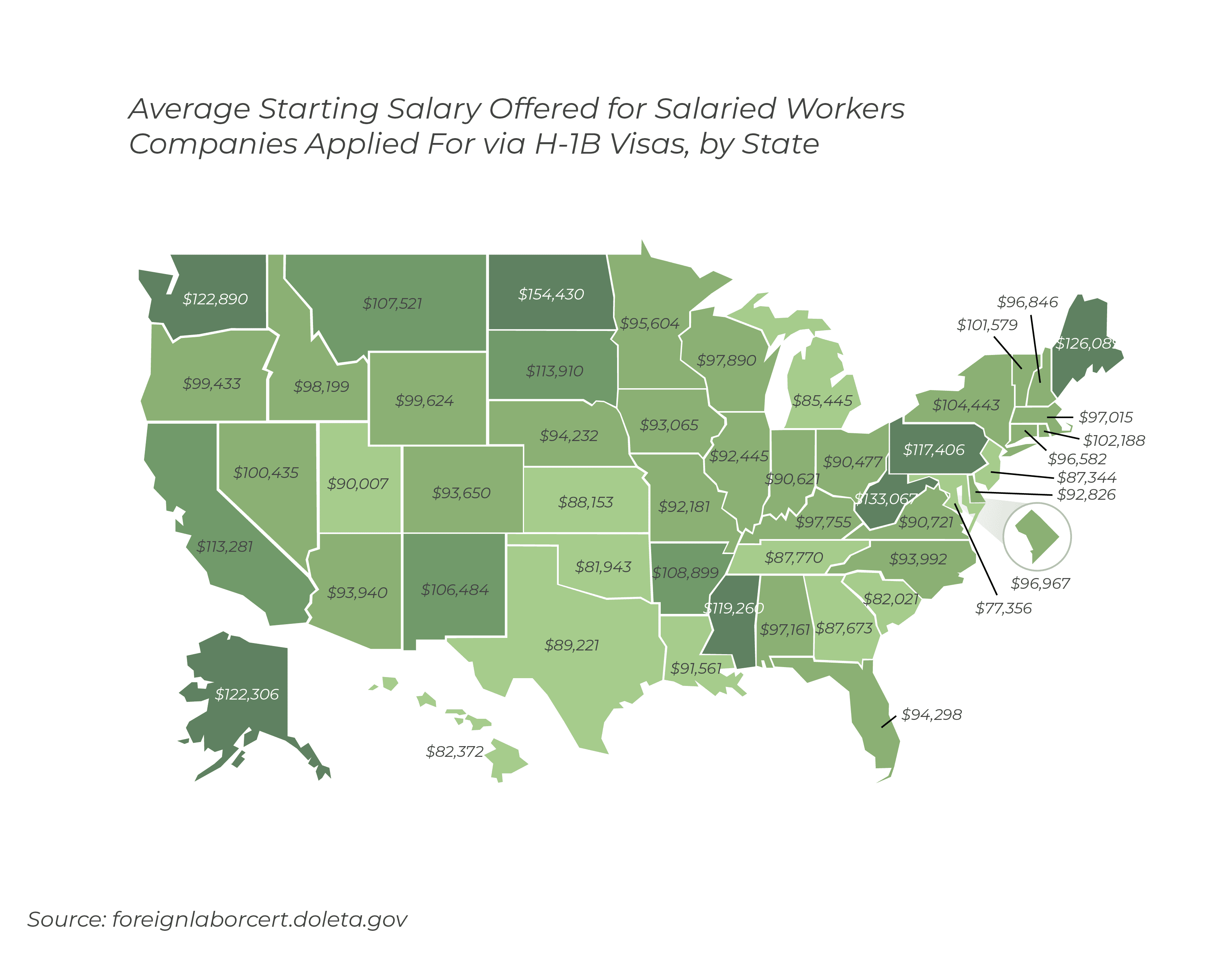 We looked at the average starting salary in industries that H-1B visa applicants are interested in, and while they definitely varied from state to state, they were all at least in the $80,000 range. The highest average salary was in North Dakota at $154,430, with the other high watermarks hitting just over $133,000 in West Virginia and $126,000 (Maine).
Some of the states with lower averages were South Carolina ($82,021), Oklahoma ($81,943), and Michigan ($85,445).
When adjusted for cost of living, these salaries mimic the national averages to an extent – for example, South Carolina is among the bottom 10 states when adjusted for cost of living, but Maine is on the low side in the context of all workers in every industry across the nation.
H-1B Visas and Salaries City by City
Here, we looked at applicants on a city-by-city basis. New York City held a commanding lead with close to 70,000 H-1B workers, followed by San Jose, California, with over 42,000, San Francisco with over 39,000, and Chicago with over 31,000.
NYC is the largest city in the U.S. population-wise, so it's not a huge surprise that there are lots of H-1B visa workers in the Big Apple, home to loads of opportunities and specialty industries in which they might find employment. San Jose is another populous city: It's the 10th-largest city in the U.S. by population, and as a part of Silicon Valley, it's heavily invested in the tech industry.
Biggest H-1B Visa Holder Employers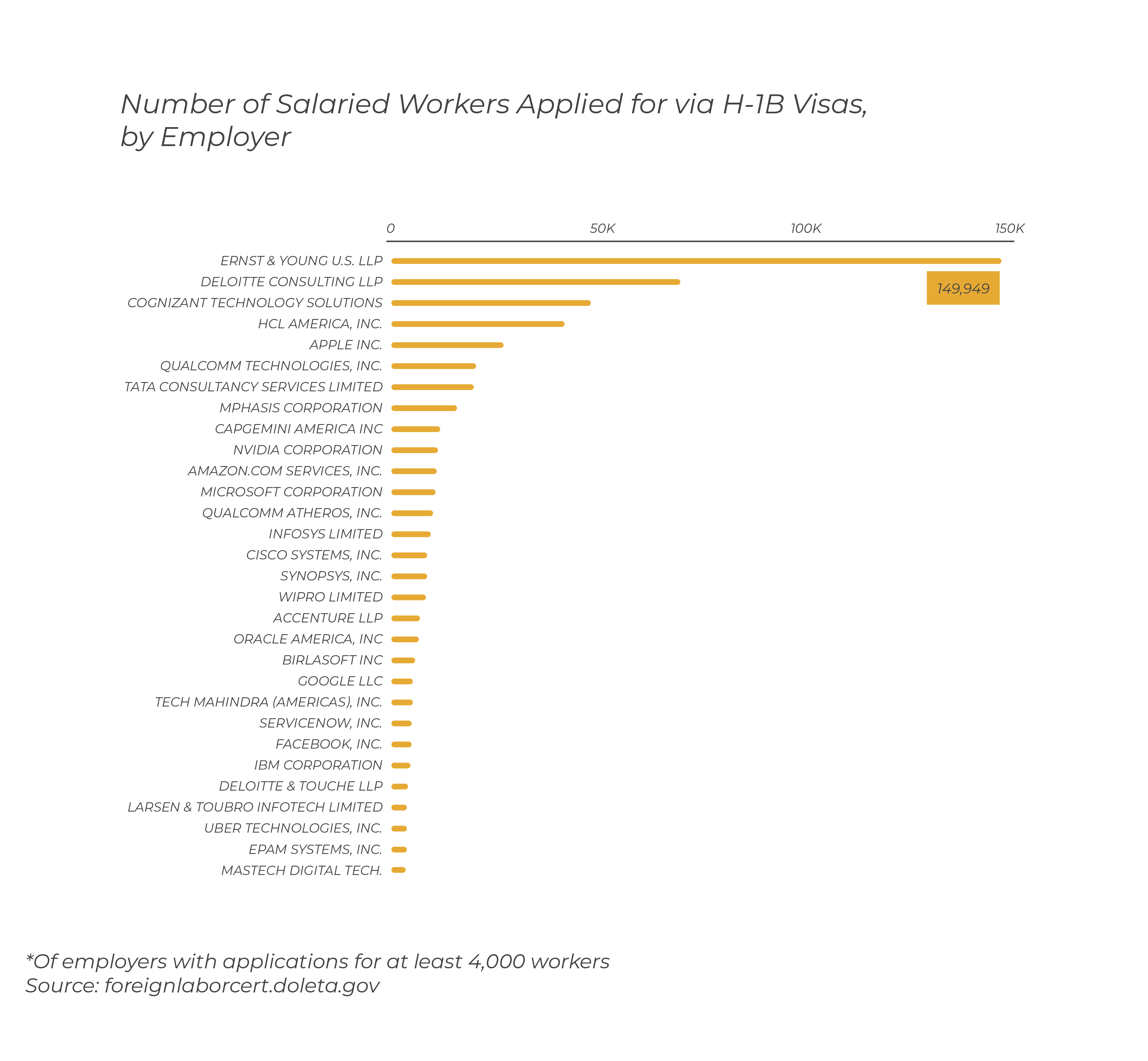 The largest employer of H-1B visa applicants was Ernst & Young, which provides assurance, tax, consulting, and advisory services for companies. Their help wanted section is chock full of software and data jobs, which all require an advanced degree – the exact kind of person who would travel to the U.S. to work on an H-1B visa.

The second-largest H-1B employer was Deloitte, another business-facing consulting company. You'll find job titles such as SAP Cloud Application Developer and UI/UX Developer in their careers section, which also require advanced specialty degrees.
Other names – some of which are global heavy-hitters – made the list, including Apple, Qualcomm, Nvidia, Amazon, and Cisco Systems.
Types of Job Usually Obtained By H-1B Visa Holders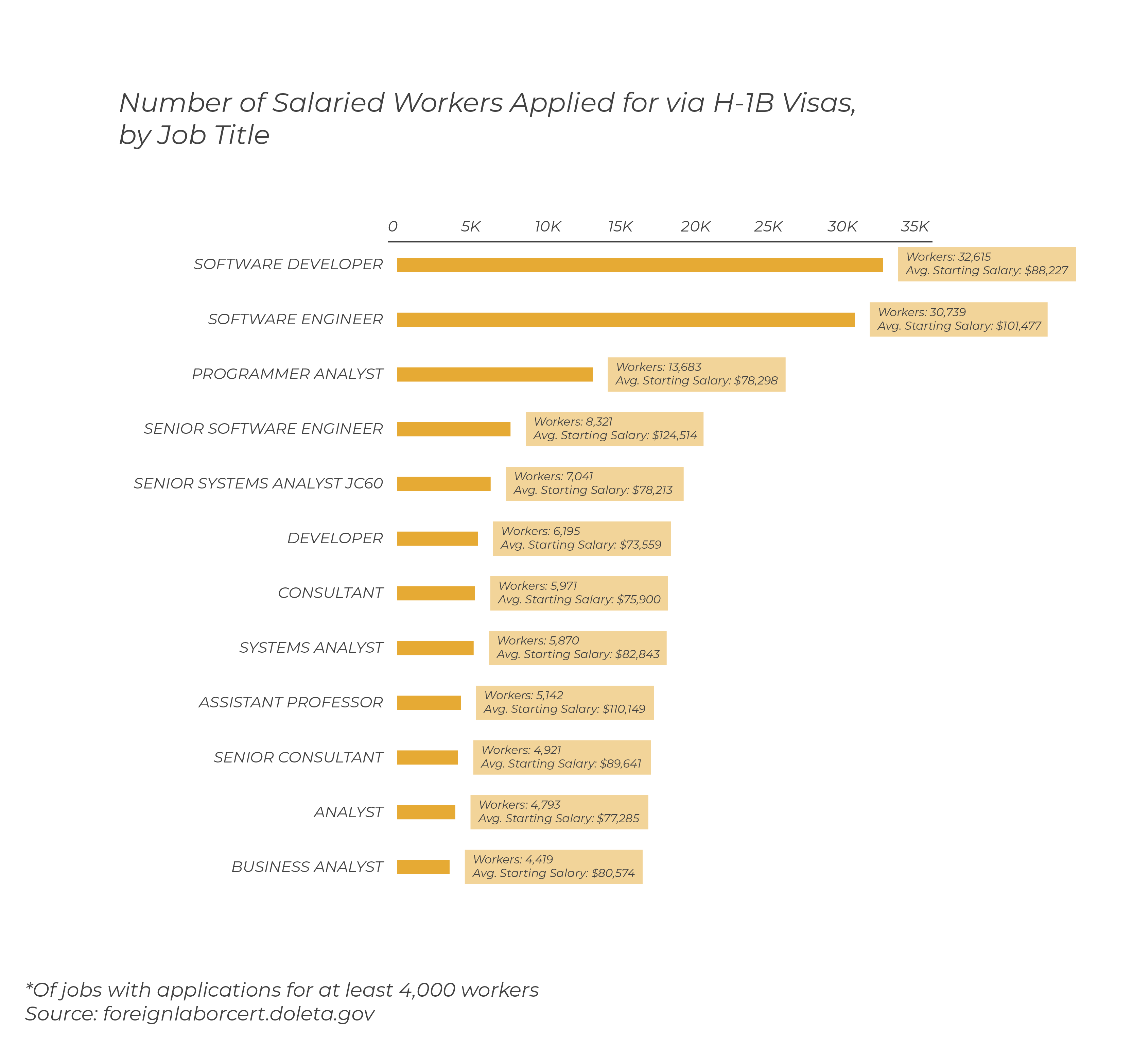 The most common job title shared by H-1B visa applicants was "software developer." A software developer is someone who develops applications for computers or other devices. Some software developers also work on systems that control networks or run devices. Jobs in this industry usually require a computer science degree and solid programming skills.
Software engineers were not far behind developers on this list. These types of professionals also work with developing systems and performance interfaces but will use engineering principles to develop these programs and work with the data. It's expected that the demand for software engineers will continue to grow.
Other popular positions for those with H-1B visas were in a similar vein: programmer analyst, developer, systems analyst, and so on.
Case Status of Salaried Workers' H-1B Visa Applications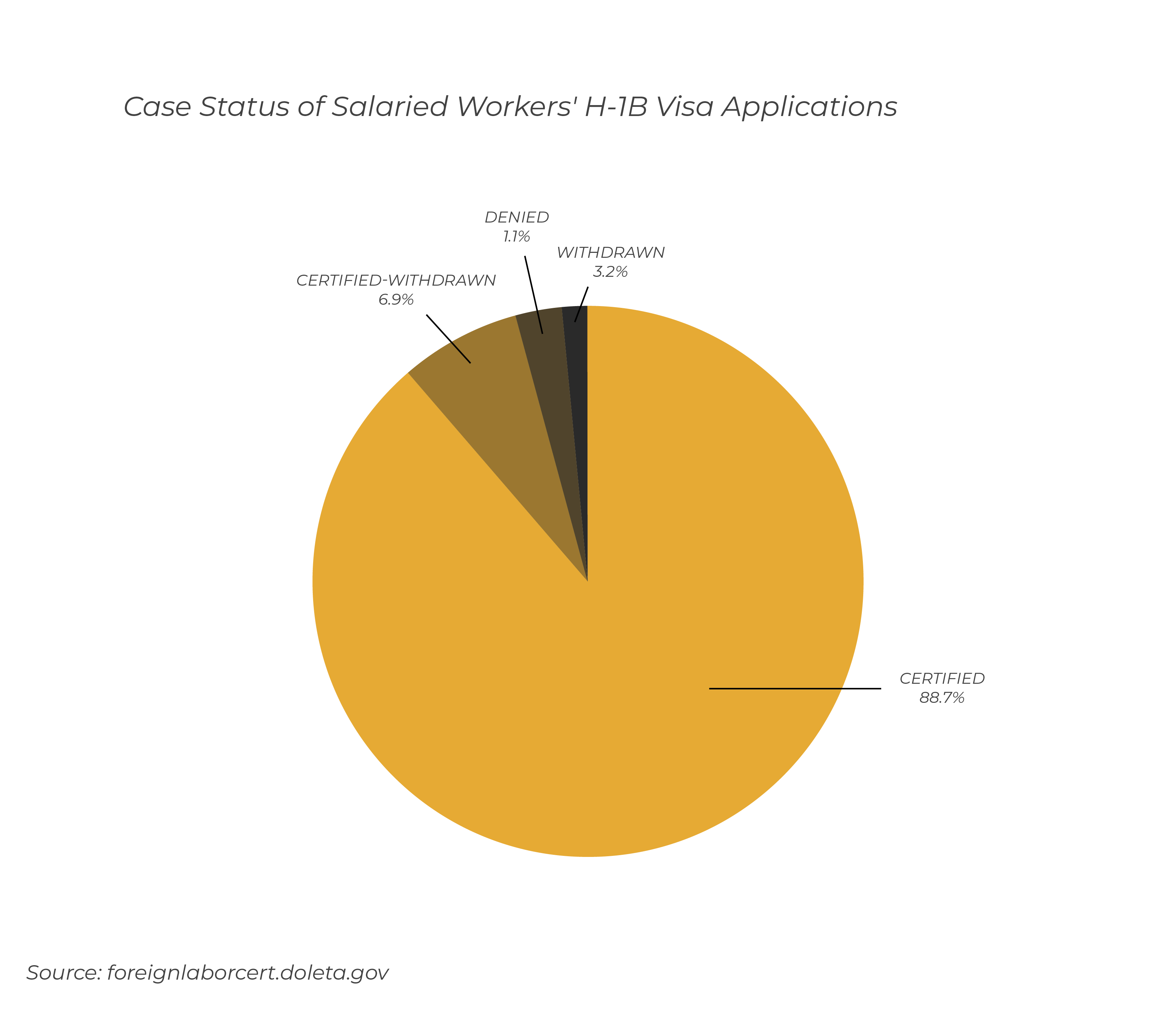 Most people applying for H-1B visas have been certified (nearly 89%). A small percentage (1.1%) were denied, while another 3.2% of applications were withdrawn.
However, a recent report revealed that H-1B visa denial rates are generally on the rise. In the 2015 fiscal year, denial rates were approximately 6%, while the first quarter of the 2019 fiscal year was closer to 32%. Experts believe this increase is due to U.S. Citizenship and Immigration Services (USCIS) raising its standards over the last several years.
H-1B Visas and the Future
Concerns about where the H-1B visa program is headed have been voiced by experts: They have noted most of the graduate students in electrical engineering programs, for example, are international students.
It's also recognized that the H-1B visa program is one of the only ways a highly skilled person from another country, including international students, can work in the U.S. long term. The current denial rate means that more skilled foreign labor will be diverted to other countries instead.
Methodology
H1-B Visa information was gathered from an Enigma Public dataset, originating from the United States Department of Labor Office of Foreign Labor Certification.
Sources
https://travel.state.gov/content/travel/en/us-visas/visa-information-resources/all-visa-categories.html
https://travel.state.gov/content/travel/en/us-visas/employment/temporary-worker-visas.html
https://www.rasmussen.edu/student-experience/college-life/salary-by-state/
https://www.politifact.com/largestcities/
https://www.indeed.com/q-Software-Engineer-l-New-York,-NY-jobs.html
https://www.britannica.com/place/Silicon-Valley-region-California
https://eygbl.referrals.selectminds.com/experienced-US/jobs/search/62753311
https://jobs2.deloitte.com/us/en/Experienced-all-jobs?icid=top_
https://collegegrad.com/careers/software-developers
https://www.forbes.com/sites/stuartanderson/2019/04/10/new-data-show-h-1b-denial-rates-reaching-highest-levels/2/#31410f8e7d7c
https://my.uscis.gov/
https://www.forbes.com/sites/andyjsemotiuk/2019/01/02/recent-changes-to-the-h1b-visa-program-and-what-is-coming-in-2019/#15b50ddb4a81
Our Immigration Lawyer Guides