Types of Personal Injury Cases and Legal Solutions
There is a perception that those who file personal injury lawsuits try to take advantage of their situation – hiring "ambulance chasers" to help them with their case.
The truth is, though, that many of these individuals need assistance and wish to return to their usual standard of living.
As a citizen, it is important to be aware of your legal rights. Being well-informed can help you navigate the legal process and perhaps dramatically increase your odds of coming away with a successful conclusion.
How Do I Know If I Have a Personal Injury Case?
The term "personal injury" generally relates to the human body and its ability to sense pain. Here are a few of the most common case types.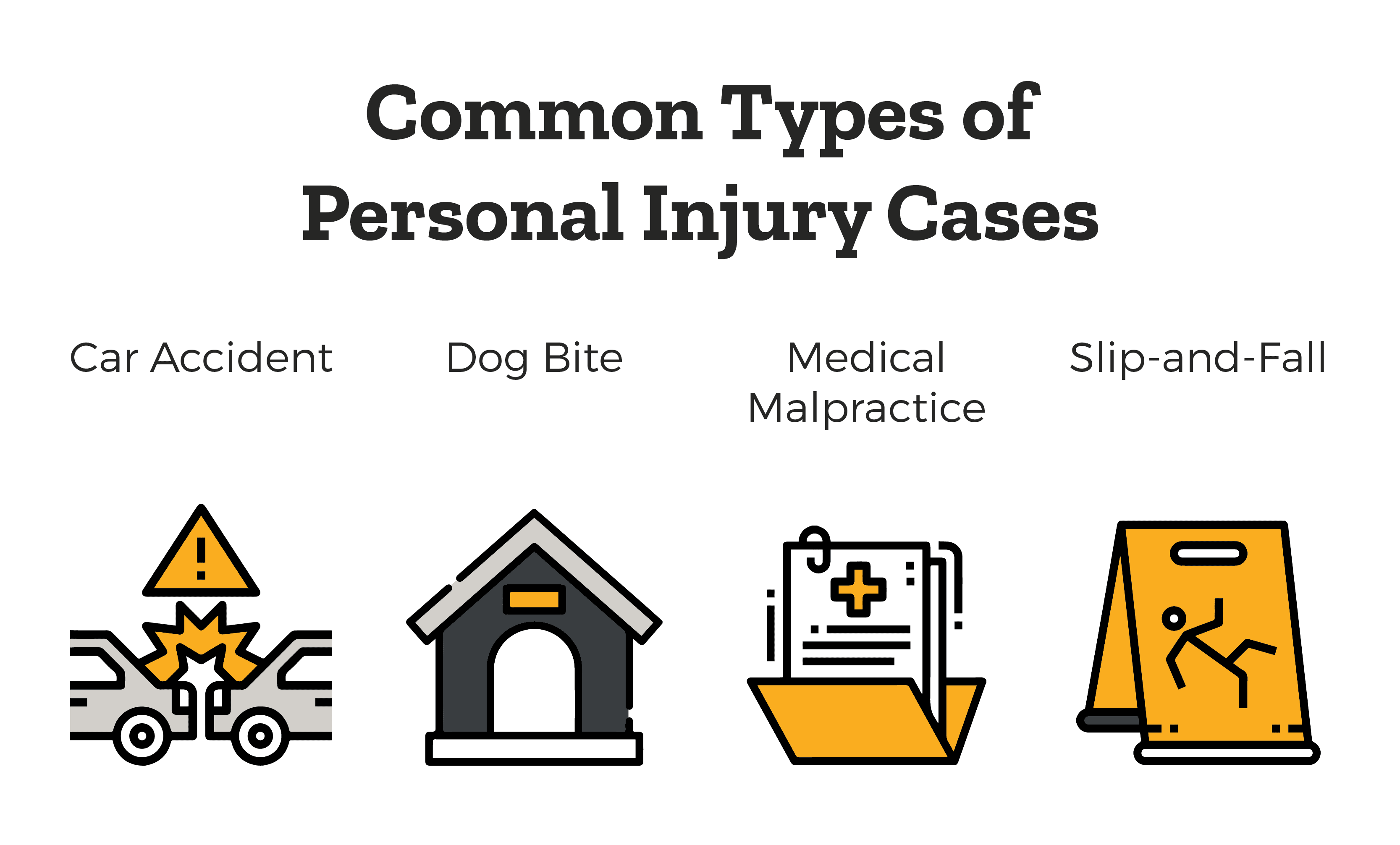 The most common subjects of personal injury cases include accidents between two or more cars on the road. You might see frequent advertising for these types of cases on TV, radio, or billboards.
Dog bites can lead to lawsuits as well, especially when the dog has been left unattended or has a previous history of bad behavior toward others.
Another frequent personal injury case type is medical malpractice. These suits are common when doctors act incorrectly or unethically, resulting in an overwhelmingly negative patient experience.
Slip-and-falls are also common suits involving people who fall and sustain an injury on a property that is unmarked and/or hazardous due to wet conditions.
Other cases involving more serious injuries can be labeled as "catastrophic." These are nontypical injuries that often lead to irreversible effects on the human body.
The definition, found in Title 42 of the U.S. Code in Section 3942(b), includes a definition of these types of injuries. It specifies that injuries may be life-altering.
Catastrophic injuries can manifest mentally as well as physically.
What Are My Options for Pursuing a Lawsuit?
A tort is a concept that courts have come up with to describe harm against an individual and determine adequate compensation.
To stem the flow of cases filed by those who allege to have been injured but are falsely exaggerating their injury, tort reform makes it more difficult to file a lawsuit. It also limits access to juries and seeks to cap the amount of financial awards.
For these reasons, it is important to contact an attorney if you feel that you have a personal injury case. They will know how best to approach the legal system on your behalf to get you the best possible result.