Flashing blue and red lights in the rearview mirror represent a mild inconvenience to some people. But it can also induce fear, anxiety, and mental duress in people who are aware of the looming injustices within the justice system and the dangers that may occur while pulled over.
It's no secret that black Americans are far more likely to be pulled over, meaning they may experience racial bias more often. In some instances, this can make them prey to unfair cabin and body searches since they are more likely to interact with police in these tense situations.
To uncover who's receiving traffic citations and how people tend to react, we surveyed over 500 respondents who had been pulled over in the past. Continue reading to see what we learned.
Going on the Lam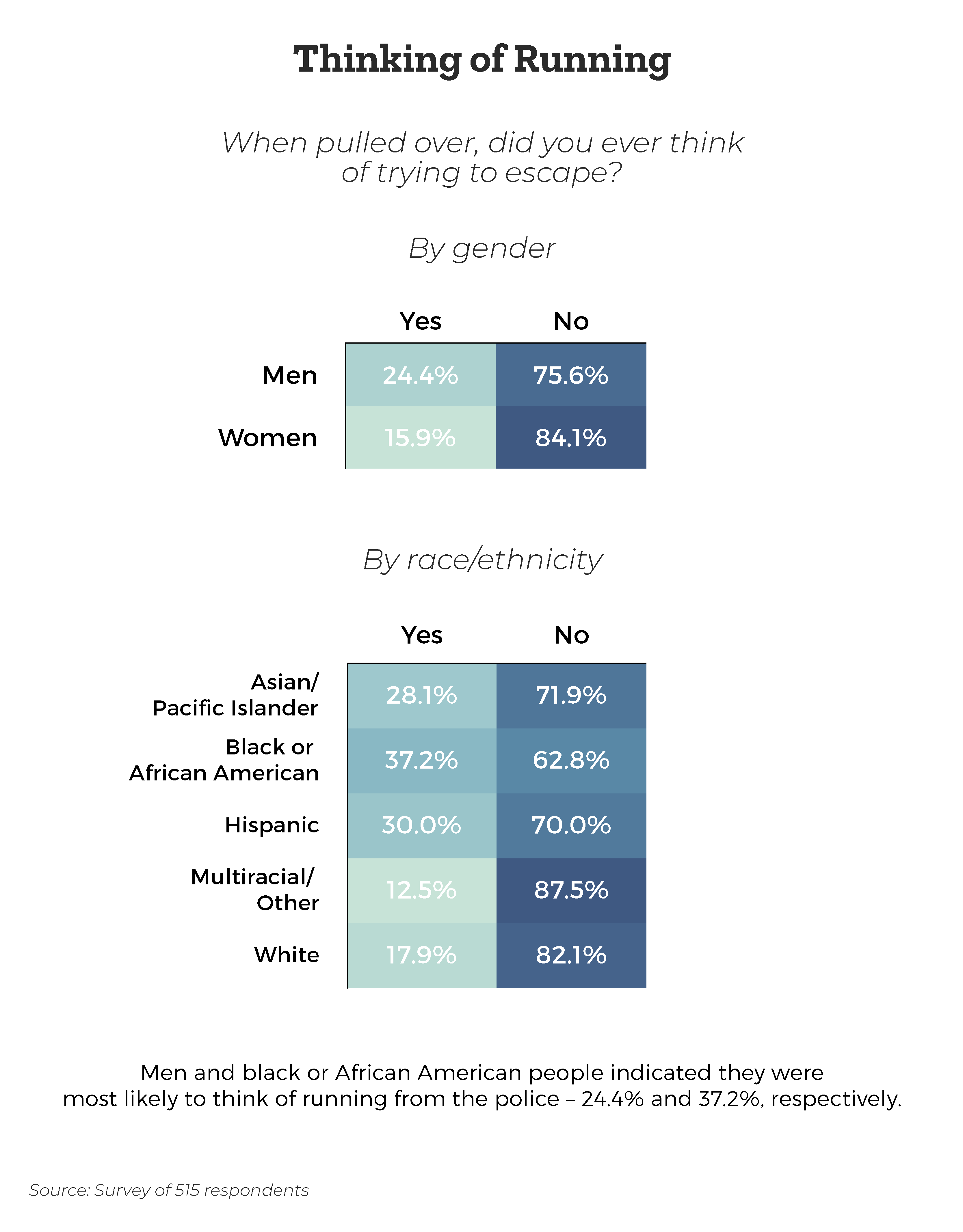 We asked participants if they had ever thought of trying to run from the police when pulled over and discovered that men were more likely than women to attempt to escape: Nearly 1 in 4 male respondents had thought about running when they were pulled over.
Some people might believe that "runners" are automatically guilty because they run, but that may not be true. In the past, innocent people have fled traffic stops (and the authorities), but that doesn't make them suspect.
Black Americans were the most likely to consider running from the police (around 37%). The 2016 Massachusetts Supreme Judicial Court case Commonwealth v. Warren recognized the reasons people might flee from the police, justifying this action as a means to avoid racial profiling or a situation where they may be exposed to excessive force or unwarranted escalation.
The ruling came three years after the courts declared the unconstitutionality of New York's controversial policy known as "stop and frisk." Since then, violent crime has decreased, and experts have denounced the tactic's effectiveness.

Anxiety, Stress, and Worry Take Over During Traffic Stops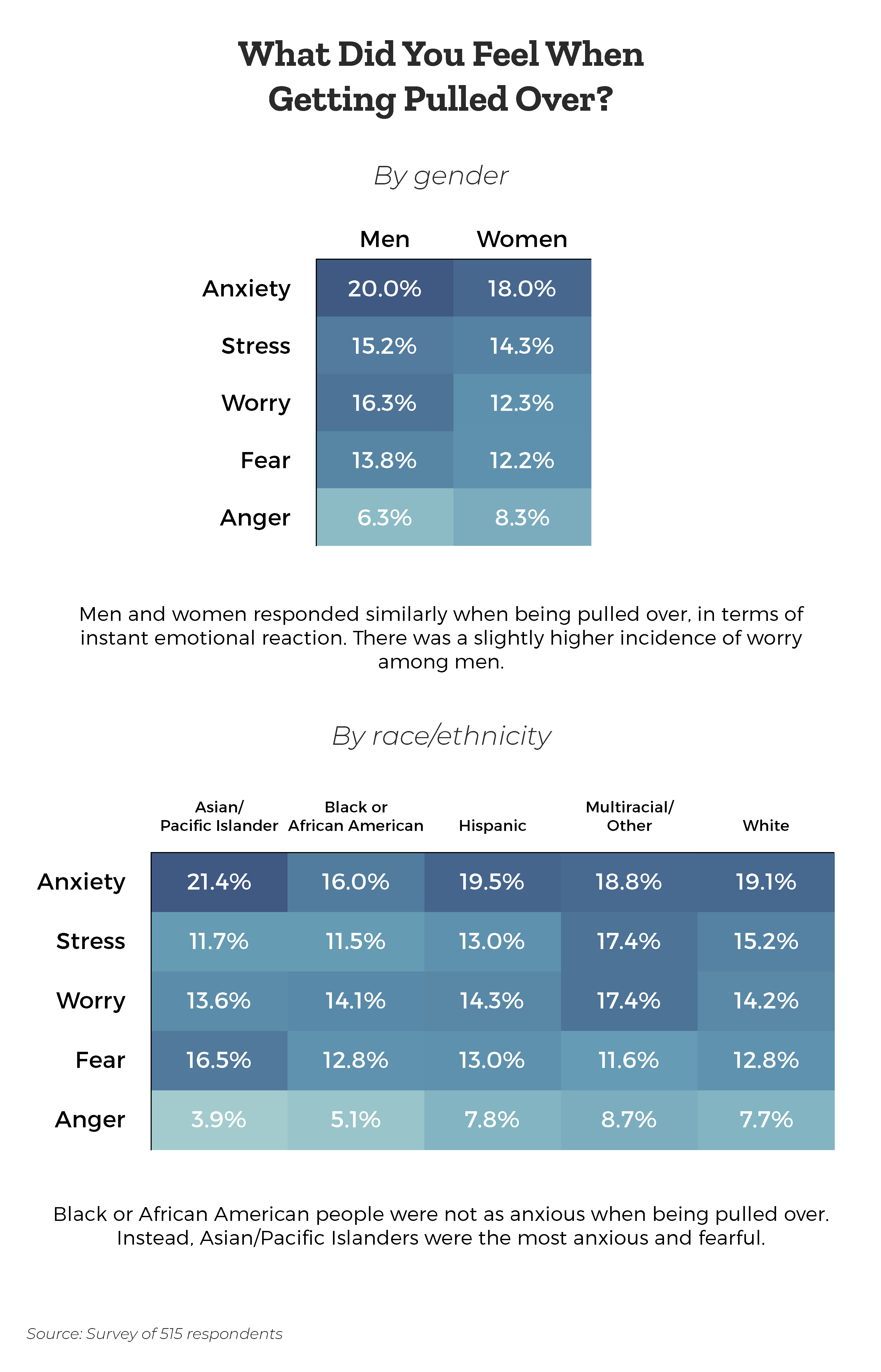 Most of us experience similar emotions when pulled over, and none of them are positive: anxiety, stress, worry, fear, and anger. During traffic stops, men were slightly more likely to be worried, while women expressed more anger.
During high-stress situations like being pulled over, anxiety may escalate between a cop and the driver. When this happens, officers are likely to perceive small threats as large ones.


With police brutality seemingly dominating the headlines, feeling anxious when dealing with traffic stops is not a rare phenomenon for those belonging to communities historically targeted by law enforcement.
Many police officers are well-intentioned and genuinely look out for the best interests of those they are sworn to protect, but negative and widespread encounters with law enforcement have scarred many black and Latino citizens who fear that a traffic stop will lead to a violent situation.

Justified Fears Conflict With Positive Reports of Police Conduct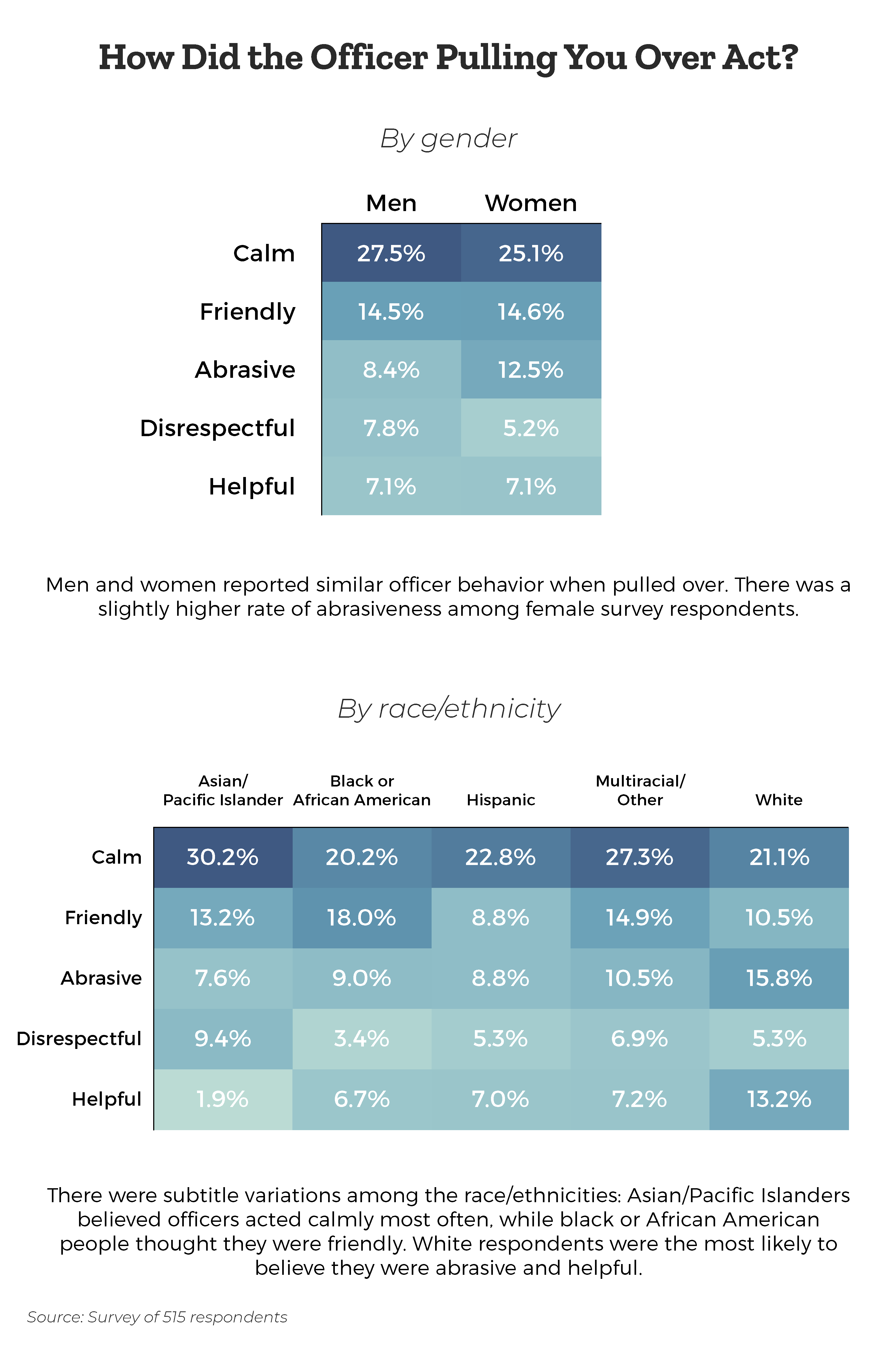 Thankfully, over a quarter of men and women reported that the officer who pulled them over was calm. A relaxed experience benefits everyone involved and keeps a traffic stop a simple traffic stop.

However, white respondents were more likely than any other racial group to say their officer was helpful (13%), but over 15% said their last police encounter could be described as abrasive. Officers are under an immense amount of pressure and stress, leading to rampant exhaustion among police departments nationwide. While law enforcement can be short and harsh, most survey participants were treated fairly well during traffic stops.
Want to Get Out of a Ticket? Be Polite

Overwhelmingly, risky tactics to evade a ticket, such as flirting or lying, were far less popular than politeness and smooth-talking: Nearly 30% of men and 27% of women surveyed using politeness to try to evade a ticket, with around the same percentages attempting to talk their way out of a citation.
While President Trump declared that the police shouldn't "be too nice" when on the job, proper police conduct dictates that all citizens should be treated with fairness and kindness. That relationship is a two-way street, though, as many respondents approached a police encounter with a calm, polite demeanor and tried to be cooperative.
And this tactic appears to be successful, as a majority of men and women had gotten out of a ticket, would employ the same technique again, and would recommend it to their friends.

Which Ticket-Evading Tactic Works Best?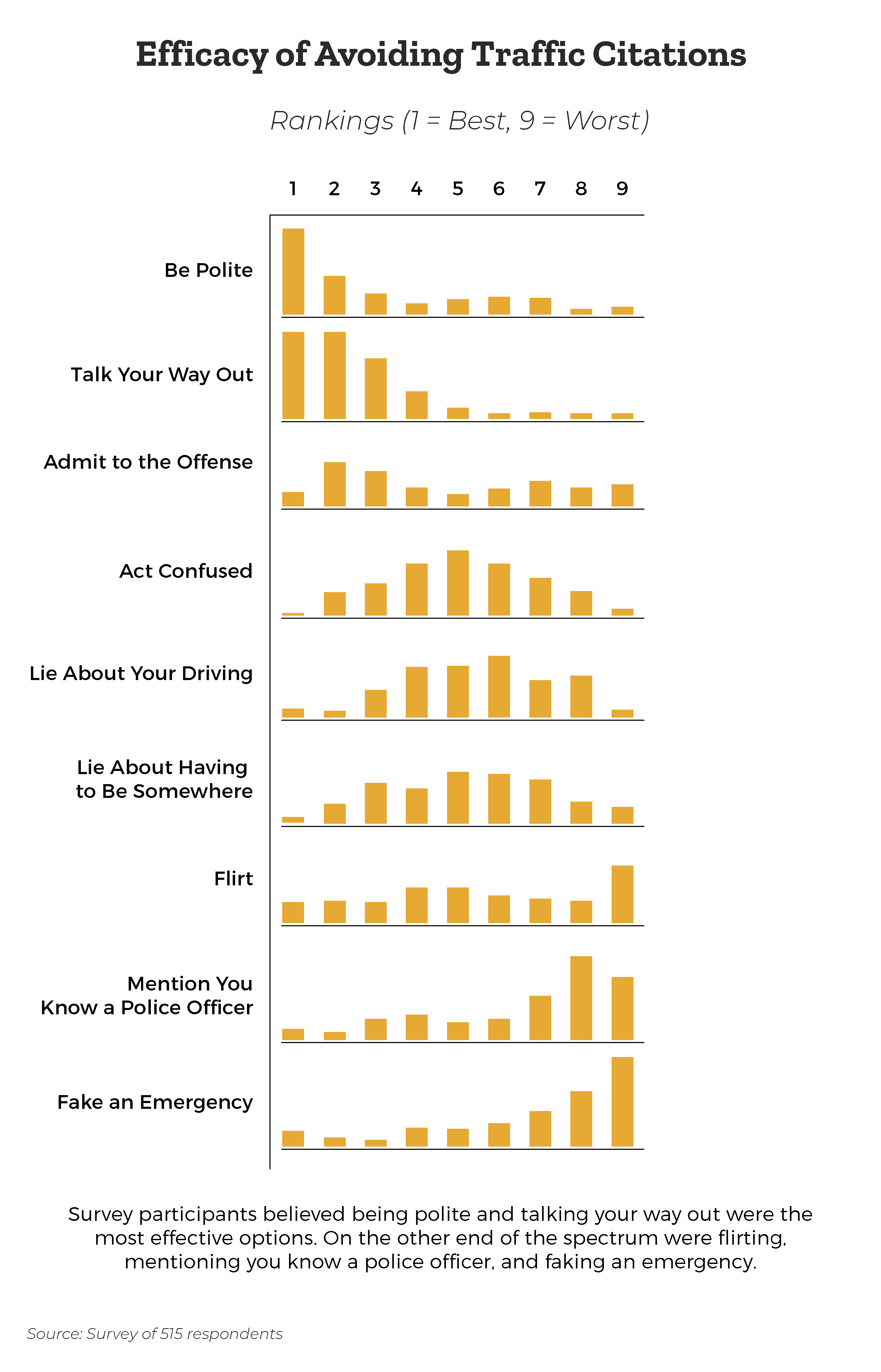 We asked participants to rank each technique on a scale of 1 to 9, with a lower score representing the best tricks to avoid a ticket. Some tactics, such as faking an emergency and trying to name-drop a police officer, are a bit riskier and could result in less overall success. On the other hand, politeness and smooth-talking were among the most successful methods.

Traffic Citations: Know Your Rights
When pulled over by the police, citizens are protected against unreasonable searches and seizures and the use of unnecessary force. Unfortunately, even law enforcement is prone to human error or prejudice. So it's crucial to know your rights and stand firm on those protections.
Methodology and Limitations
Our conclusions were developed based on a survey of 515 participants who had previously been pulled over by the police. Respondent information was limited based upon self-reported results.
Fair Use Statement
Interactions with police seem to run the gamut from calm and pleasant to scary and stressful. If you'd like to share these findings, please cite us by name when you link to our results. Please share our data for noncommercial purposes only.