What Is A Green Card?
A green card, also know as a permanent resident card, allows non-citizens to live and work in the United States.
One way by which many become citizens of the United States is by first becoming a lawful permanent resident (LPR). This type of immigration status is more commonly known as a green card because the identification card traditionally has a green appearance.
Green cardholders are entitled to remain in the United States indefinitely with limited rights as compared to those enjoyed by U.S. citizens.
Green cardholders may:
serve in the military
obtain government identification, such as a driver's license
Green cardholders may not:
vote in national elections or serve on a jury
Even with a state ID, adult green cardholders are required to carry their card with them at all times regardless of their possession of other forms of state identification or face the possibility of incarceration.
When Are Green Card Holders Eligible for Citizenship?
An immigration law known as the Immigration and Nationality Act (INA) establishes these policies and designates green cardholders as immigrants with statutorily granted eligibility to become U.S. citizens after five years of living in the U.S.
Green Card vs Visa
An immigration visa, which entitles the holder to remain in the U.S. for a relatively shorter amount of predetermined time to achieve a specific purpose. Also, the holder of a visa must return to his or her home country upon expiration of his or her visa if the holder chooses not to renew.
A green card allows you to enter the US but also stay as long as you want. Two-year green cardholders are subject to this requirement. Two-year green cards may not be renewed.
Green Card Eligibility
You may be eligible to apply for green card (permanent resident card) under one of these categories:
Family
Employment
Special Immigrant
Refugee or Asylee
Victim of Human Trafficking or Crime
Victim of Abuse
Continuous Residence
Other
The Green Card Application Process
The green card process and visa applications are in the control of a U.S. government agency called the U.S. Citizenship and Immigration Services (USCIS). Accordingly, all lawful permanent resident applications must be submitted to and approved by the USCIS.
Determine your eligibility category.
Fill out and submit immigration petition form (if needed) with your LPR form.
If apply while in the US, you may be required to come in for an interview for provide further evidence.
Take a medical exam.
Green Card applicants may choose to hire an immigration attorney to represent them throughout the application process to ensure that the process is conducted thoroughly and fairly.
Lawful Permanent Resident (LPR) Eligibility
LPR eligibility can be based on several predetermined categories.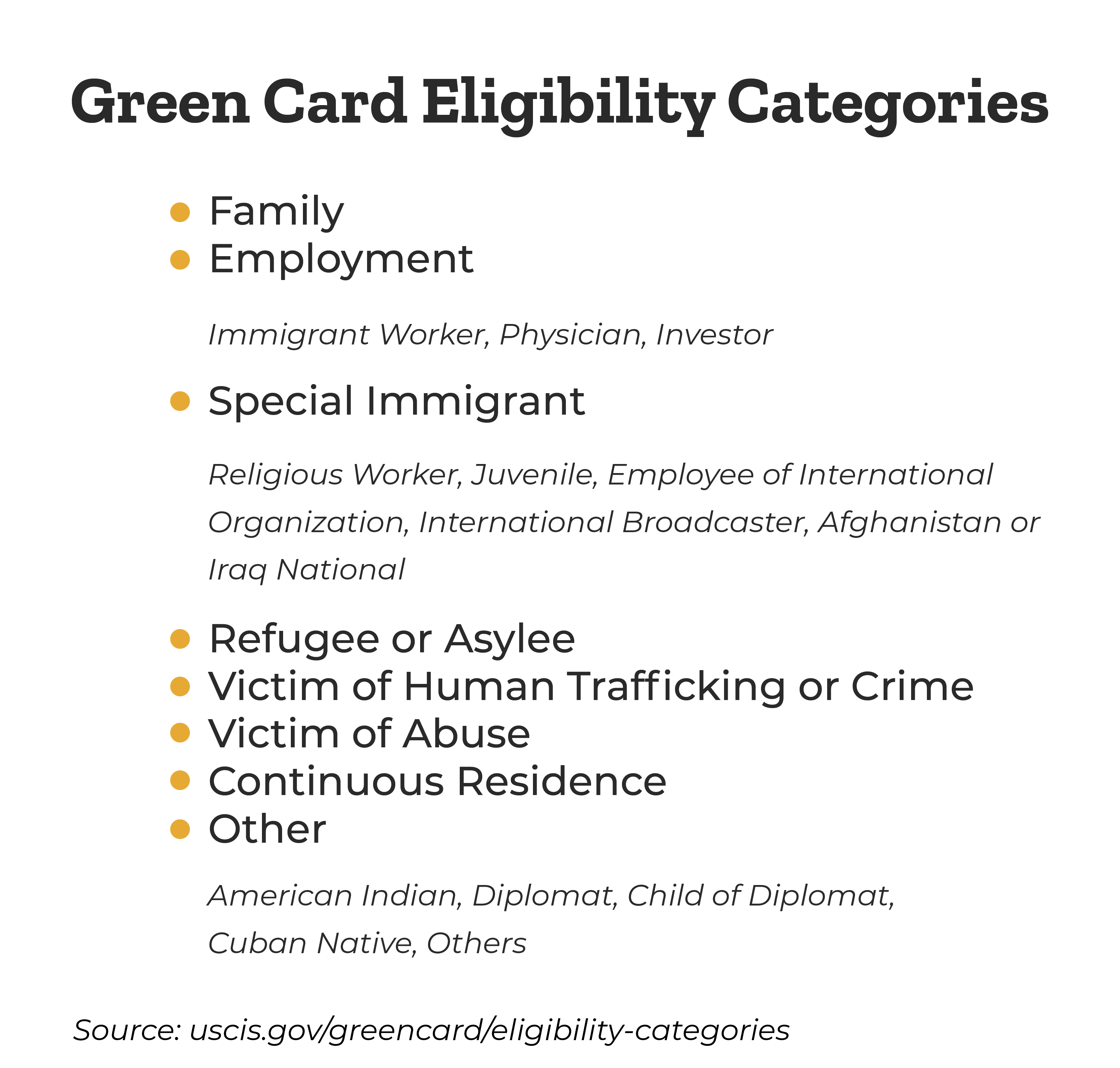 It may be granted if the applicant has family that is lawfully residing in the U.S. The specific types of families that qualify for this category are listed as immediate relatives of a U.S. citizen (spouse of a U.S. citizen, unmarried child under the age of 21 of a U.S. citizen, parent of a U.S. citizen who is at least 21 years old).
Lawful Permanent Resident's (LPR) may also be granted for a fiancé (person who expressly intends to marry) of a U.S. citizen or the children thereof. This is also the case for a person who was married to a U.S. citizen at the time that his or her spouse becomes deceased. 
Employment may also provide a sufficient basis for the granting of an LPR. These types of LPR applicants are designated as immigrant workers,and they are ranked in terms of first, second, or third preference based on which type of professional services are offered. 
Are Certain Green Card Applicants Preferred Over Others?
First preference is given to applicants who "have extraordinary ability in the sciences, arts, education, business or athletics, or are an outstanding professor or researcher, or are a multinational or executive who meets certain criteria."
Second preference workers are listed as being "… a member of a profession that requires an advanced degree, or having exceptional ability in the sciences, arts, or business, or seeking a national interest waiver."
Third preference workers are defined as "skilled worker[s](meaning your job requires a minimum of two years training or work experience), or [a] professional (meaning that your job requires at least a U.S. bachelor's degree or a foreign equivalent and you are a member of the profession, or [a]n unskilled worker (meaning you will perform unskilled labor requiring less than two years of training or experience." 
Lawful Permanent Resident (LPR) applications may also be granted to immigrant investors who "have invested or are actively in the process of investing at least $1 million (or $500,000 in a targeted employment area) in a new commercial enterprise in the U.S., which will create full-time positions for at least 10 qualifying employees." These individual applications based on employment are evaluated on a case-by-case basis. 
Other categories of LPR eligibility include:
special immigrants (religious workers, abused juveniles, Afghan or Iraqi nationals, international broadcasters, employees, and family members of international organizations)
those who have been previously granted status as an asylee or refugee at least one year ago, victims of human trafficking and crime, and victims of abuse.
There also exists a limited amount of other highly specific categories upon which green card status may be granted.
Applicants may be determined ineligible upon a finding that the applicant has committed certain types of crimes. This is particularly true in cases involving violent crimes and aggravated felonies (usually involving the use of a lethal weapon, e.g., robbery involving the use of a firearm). 
What Is An Immigrant Petition (Form I-140 and Form I-130)?
Each of the types of lawful permanent resident applications mentioned above may also require the filing of an immigrant petition .
A USCIS form I-140 that has to be completed by the U.S. employer that certifies that they are unable to find a U.S. citizen to perform the job being offered to the applicant.
A USCIS form I-130, petition for alien relative" will need to be filled out if you fall into a the family category.
This must be done at the same time that the LPR application is submitted along with the applicable filing fees. This requirement is known as concurrent filing.
Upon a determination of eligibility, applicants who are present in the United States at the time of application for lawful permanent resident status may begin the process by undergoing what is called an adjustment of status.
What Is The Adjustment of Status Process?
Adjustment of status allows the applicant to obtain lawful permanent residency status without returning to their country of origin.
This process involves several steps that may or may not involve an interview and the presentation of evidence supporting the application to adjust before receiving a decision.
For applicants who are not present in the U.S. or are otherwise not eligible to adjust status at the time of the application, a procedure known as consular processing must be utilized.
What is Consular Processing?
Consular processing requires that the applicant be the beneficiary of an approved immigrant petition and that there is an immigrant visa number available to be assigned to the applicant. 
How Long Does It Take To Get A Green Card?
Generally, to begin an application for lawful permanent residency (green card) status, there must be a visa immediately available to the applicant. The waiting period (if any) for a visa will depend on which type of visa the applicant is seeking to attain.
This is because certain types of categories of visa are readily available, while other types may be available less frequently. Thus, the processing of an lawful permanent residency may take seven to 33 months or longer, depending on current demand.
Can Your Travel During The Green Card Process?
Once an immigrant has applied for or obtained a green card, their right to travel outside the U.S. may be restricted. The immigrant seeking to travel internationally may apply for several types of authorizations known as travel documents.
The four main types of travel documents are:
advance parole
refugee travel
re-entry permit
carrier documentation
Exceptions may also be made for emergencies.
Is A Medical Examine Required For A Green Card?
The majority of LPR applicants will be required to undergo a medical examination depending on the type of immigration benefit the applicant is seeking. The stated purpose of the exam is "… to protect the health of the United States population." Such exams are conducted by doctors who have been approved by the USCIS (also known as civil surgeons).
Applicants will be screened for certain types of diseases of public health significance, physical or mental disorders associated with harmful behavior, drug abuse or addiction, vaccine administration, and various other medical conditions that may or may not disqualify the applicant from lawful permanent residency eligibility. 
Who Can Be A Green Card Sponsor?
Most often, the sponsor is the party who files the immigrant petition on behalf of the applicant. Such a promise is called an affidavit of support.
It is required to be submitted to the USCIS in all cases that involve immigrant employment in the U.S. Additionally, LPR applicants must demonstrate that they are unlikely to become dependent on public assistance to sustain themselves while living in the U.S.
This process is known as a public charge, and applicants who are determined to have a strong likelihood of requiring public assistance may be determined to be ineligible for lawful permanent residency status.
Employment Based Green Card Sponsor
If the applicant intends to work or earn money through employment in the U.S., his or her employer must sign a contract that pledges his or her intent to provide financial support to the immigrant applicant while in the U.S. This employer is referred to as a sponsor in these types of situations.
These represent the initial steps to be aware of if you are considering an application or have already applied for a green card. The U.S. Senate and Supreme Court frequently make new determinations relating to immigration law, so the green card process can be quite complex and confusing.
This has been particularly true under the current Trump administration. So it may be to your benefit to consult with an experienced immigration specialist who can guide you through the process and potentially make the process much more manageable.
Our Immigration Lawyer Guides
Source