As part of its earnings report in 2019, Twitter acknowledged its daily active user count for the first time – 126 million accounts. Although a far cry from the 1.2 billion daily users logging into Facebook, Twitter may have a different dilemma where its user base is concerned: bots.
Reports have found that bots (or fake accounts) comprise roughly 15% of Twitter users, driving more than 2 in 3 links published to the site. Regardless of the platform, though, bots present a major complication.
While a majority of content shared by fake accounts is bland or generally harmless, research has shown that in the midst of major U.S. elections, bots are often responsible for attacking journalists, harassing activists online, and attempting to disenfranchise voters. In 2018, Twitter admitted to expunging 50,000 fake accounts from the site, linking them to Russian users aiming to influence the 2016 presidential election and claiming their posts reached nearly 678,000 Americans.
President Trump is well-known for having an extremely high percentage of fake followers, but is he alone as the U.S. prepares for the 2020 presidential election? For a closer look at how bots have infiltrated the social media platforms of Democratic candidates vying for the nomination, we analyzed the millions of accounts following all 23 current candidates on Twitter and Instagram. Read on as we break down which candidates have the highest number of fake followers and how their bot activity compares to President Trump.

Note: We focused on social media handles used for a presidential run. For example, Elizabeth Warren has an official Senate account (@senwarren) and an account for her presidential run (@ewarren).
Padding the Numbers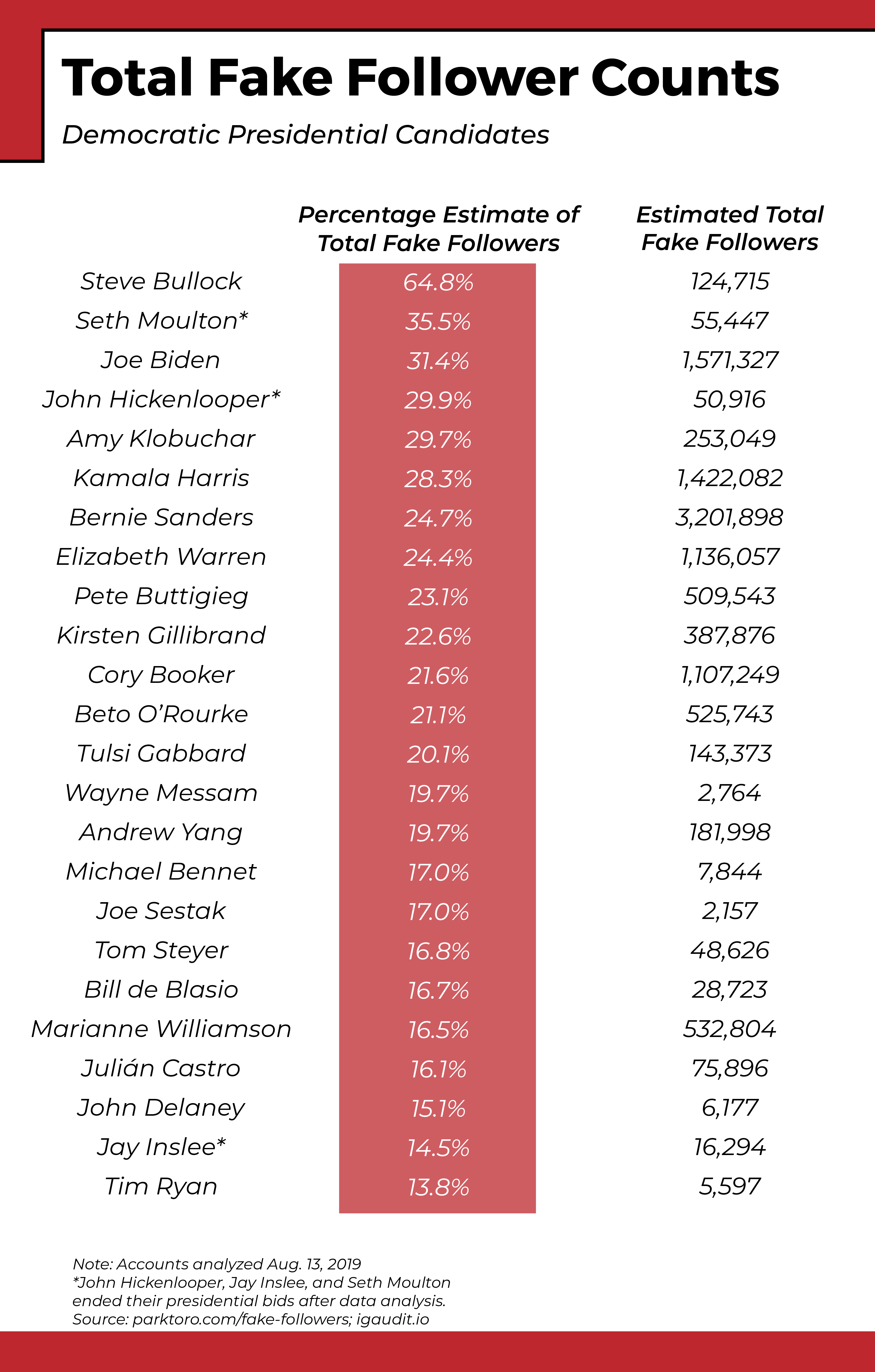 There seems to be no question that bot accounts on social media (run by autonomous computer programs) proliferate a high volume of political content – often designed to influence users on hot-topic issues ranging from gun control to immigration. What remains to be seen is how effective fake social media accounts are at swaying the populous at large.
Popular hashtags escalated by fake users continue to demonstrate the power of amplifying a message through what some researchers have dubbed a "misinformation network." For example, Brexit in the U.K. was heavily favored by fake accounts on Twitter, and Russian-based accounts were found to propagate the #ReleaseTheMemo campaign following the Parkland, Florida, high school shooting.
Of the 23 Democratic presidential candidates in this study, three had the highest percentage of fake followers on Instagram and Twitter: Steve Bullock (65%), Seth Moulton (almost 36%), and Joe Biden (31%). And only one has qualified for the September Democratic debate: Joe Biden. Among Vice President Joe Biden's 3.7 million Twitter followers and 1.3 million Instagram followers, nearly 1 in 3 users (1.6 million) were not real people.
Four other candidates also managed to amass more than 1 million fake followers: Bernie Sanders (3.2 million), Kamala Harris (1.4 million), Cory Booker (1.1 million), and Elizabeth Warren (1.1 million). In contrast, Tim Ryan (nearly 14%) and Jay Inslee (over 14%) had the lowest percentage of bots making up their social media followers.
Boosting Twitter Engagement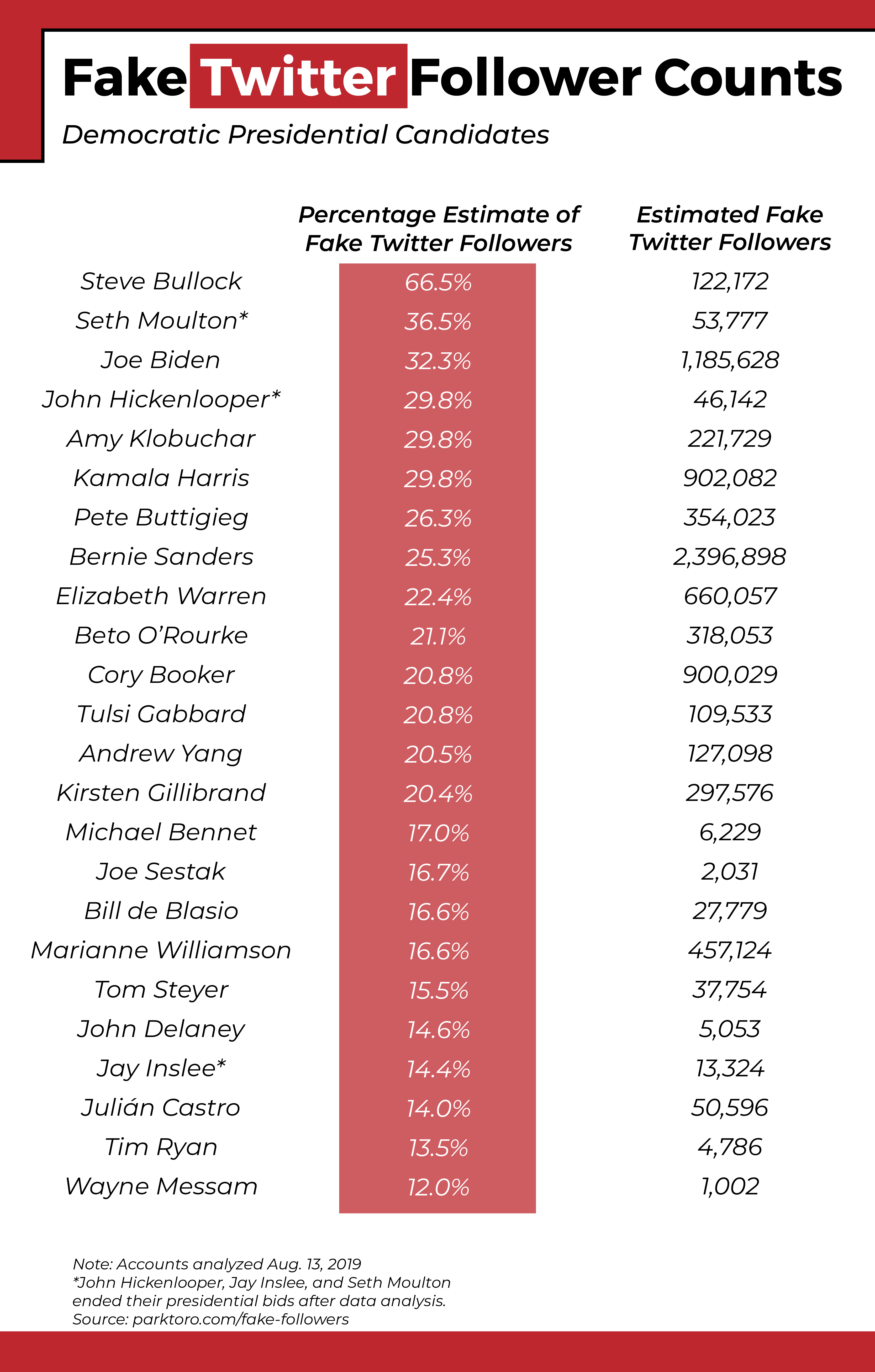 There are several reasons why fake social media accounts exist. In some cases, they're designed to help boost visibility for a particular (and sometimes politicized) message. In other cases, they may be used to help inflate the total number of followers an account has to make them seem more popular or influential. Occasionally, fake accounts are created by real people for online giveaways or sweepstakes. While amassing a high volume of followers may seem like a simple way to judge if your brand is successful, experts suggest having too many fake followers can damage your online reputation by reducing overall engagement.
On Twitter, Steve Bullock (almost 67%), Seth Moulton (nearly 37%), and Joe Biden (32%) had the highest percentage of fake followers. More than 1 in 4 Twitter followers were also fake for four other Democratic presidential candidates: Amy Klobuchar, Kamala Harris, Pete Buttigieg, and Bernie Sanders. Former Democratic candidate John Hickenlooper (who withdrew his campaign in August) also had nearly 30% of fake followers on Twitter.
With more than 9.5 million Twitter followers, Bernie Sanders currently has more followers than any other Democratic presidential candidate (Elizabeth Warren has 2.9 million on her official campaign account, @ewarren), although 2.4 million accounts following Senator Sanders were identified as fake.
Fake Followers on the Grid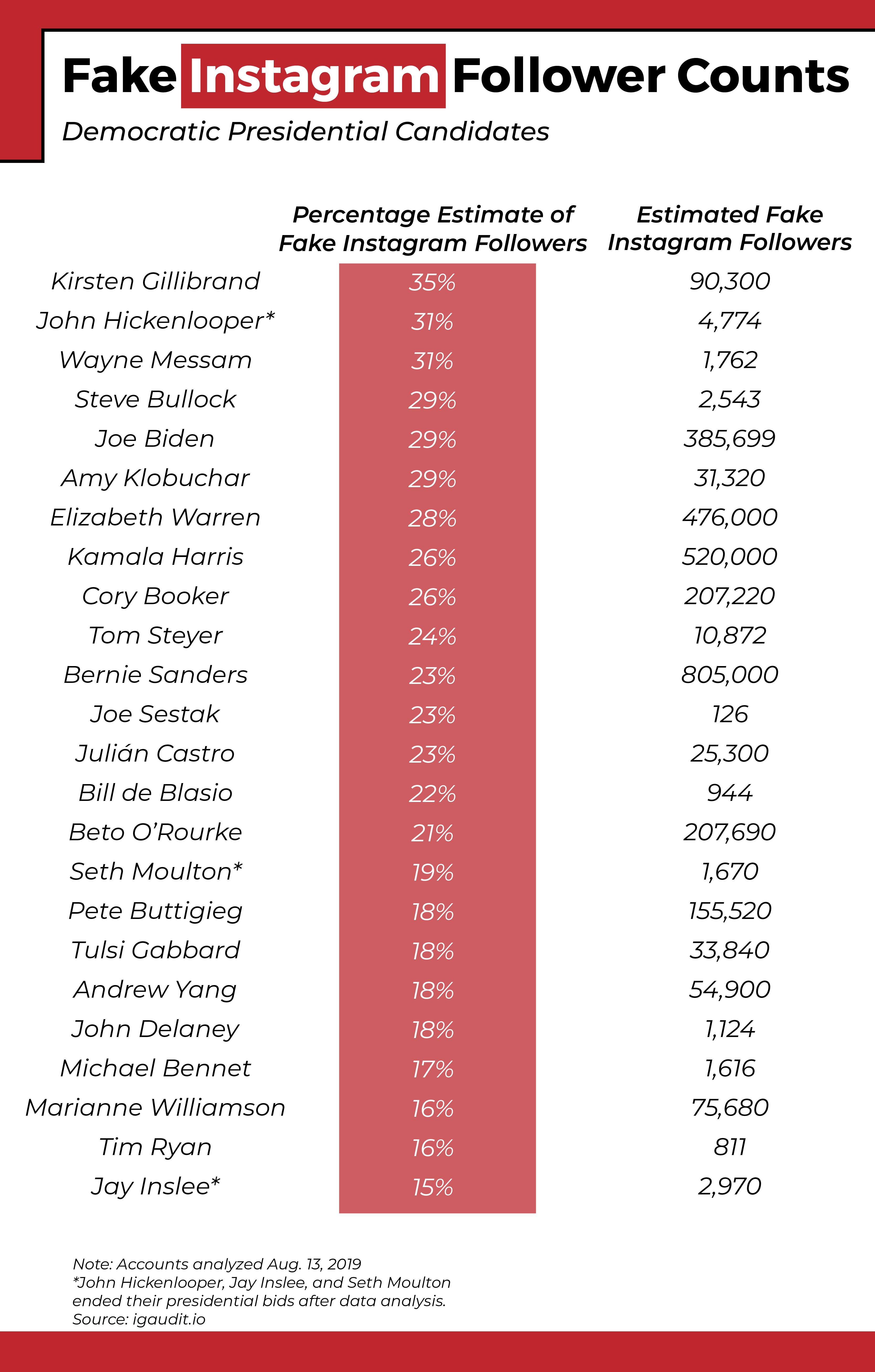 On Instagram, the allure to pay real money for hundreds or thousands of fake followers isn't uncommon. Embedded links in Instagram stories are only available for users who have amassed 10,000 followers or more, and links are typically seen as an important tool for monetizing the platform. In 2018, Instagram announced that it would take action against fake accounts and any third-party tools that users might utilize to boost engagement. And while Instagram may not have released an official number of the total number of fake accounts purged, it did acknowledge deleting fake accounts and the "likes" and comments they may have left behind.
Of the 23 Democratic candidates, more than 1 in 4 Instagram followers were fake for nine of them. Kirsten Gillibrand (35%), John Hickenlooper (31%), Wayne Messam (31%), and Steve Bullock (29%), Joe Biden (29%), Amy Klobuchar (29%) had the highest percentage of fake followers on Instagram. Bernie Sanders had the highest number of fake Instagram followers (805,000), followed by Kamala Harris (520,000) and Elizabeth Warren (476,000).
More than half of the Democratic presidential candidates who qualified for the September debate (at the time of this writing) had fake followers accounting for more than 1 in 4 of their total Instagram audience: Joe Biden, Amy Klobuchar, Elizabeth Warren, Kamala Harris, and Cory Booker.
Fake POTUS Followers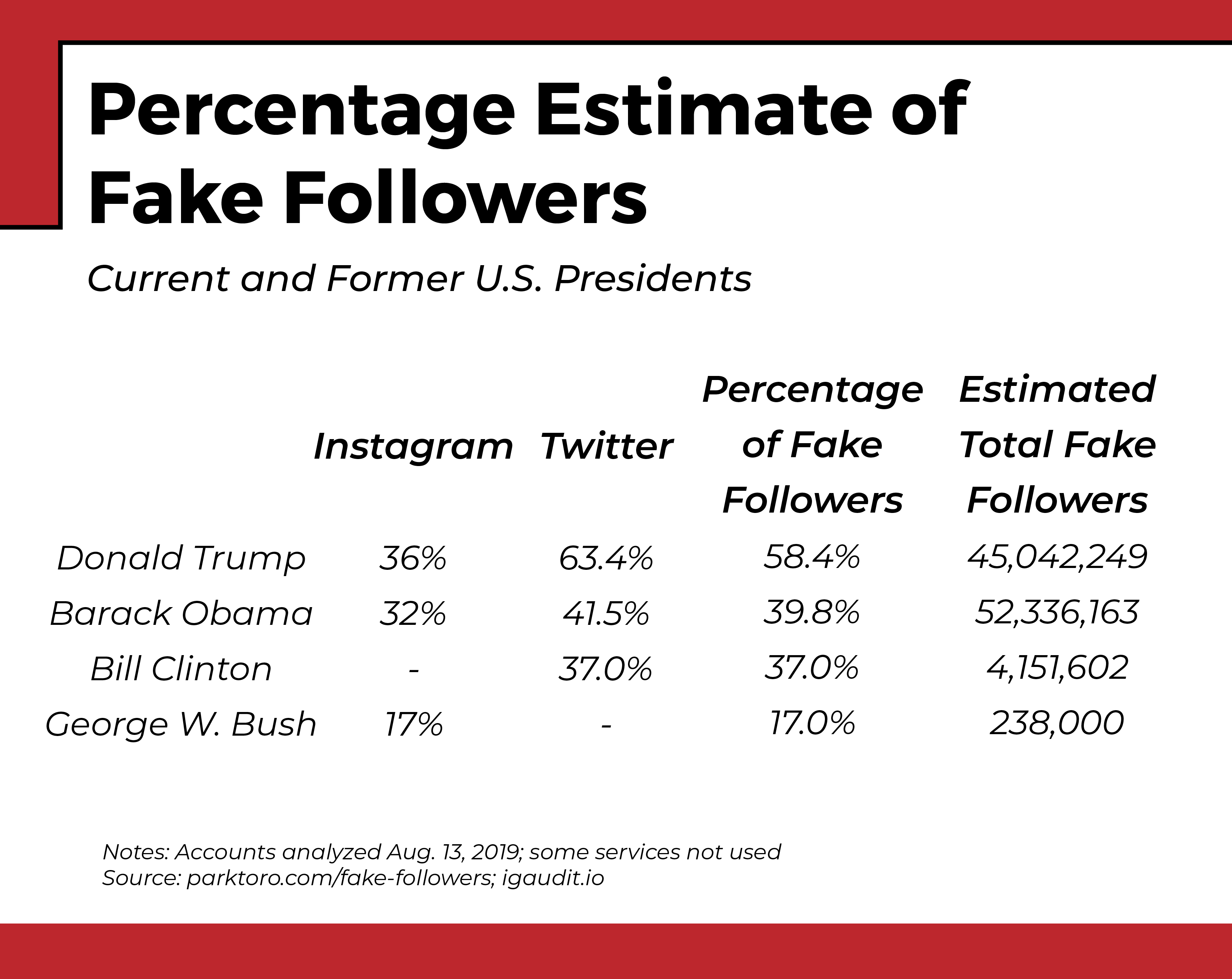 Twitter: Barack Obama vs. Donald Trump


Politicians looking to take on the highest office of American politics may learn something Donald Trump and other past presidents already know: Fake followers are part of the job. Of course, Donald Trump may know that lesson better than anyone. Compared to Barack Obama (40%) and Bill Clinton (37%), around 58% of President Donald Trump's total social media followers were fake. And over 63% of his Twitter followers (45 million accounts) were identified as bots or fake users.
President George W. Bush, who currently has no official Twitter presence, had 238,000 fake followers on Instagram, or 17% of his social media audience.
Monitor Their Engagement
Use this chart to sort through all 23 presidential candidates to see just how many of their Twitter and Instagram users are fake, according to our analysis.
Race to the White House
For the 23 remaining candidates for the 2020 Democratic presidential nomination, social media is a tool that cannot be ignored. Social media as an advertising tool is worth millions to many candidates, and many campaigns look to social media to raise money as well. Among the requirements for qualifying for each round of the debates is the total number of donors, making the "Donate $1" social ads extremely valuable in some cases.
However, a candidate's popularity on social media may not always be what it seems. Many candidates have millions of fake followers across their Twitter and Instagram audiences, in some cases accounting for a quarter or more of their total followers. And while no major politician had more fake followers on Twitter than President Trump, several (including Bernie Sanders and Joe Biden) had amassed their own fairly large audience of bots.
Methodology
Using a list of Democratic presidential hopefuls, we compiled their Twitter and Instagram handles – the ones specifically used for their presidential run – and then used Sparktoro.com/fake-followers to audit their Twitter profiles and IGaudit.io to audit their Instagram profiles to determine follower quality. Using a combined total of followers on both platforms and the combined total of estimated fake followers, we were able to create a combined overall ranking.
Sources
https://qz.com/1449402/how-to-solve-social-medias-bot-problem/
https://www.vox.com/technology/2018/4/9/17214720/pew-study-bots-generate-two-thirds-of-twitter-links
https://www.theguardian.com/technology/2018/jan/19/twitter-admits-far-more-russian-bots-posted-on-election-than-it-had-disclosed
https://sparktoro.com/blog/we-analyzed-every-twitter-account-following-donald-trump-61-are-bots-spam-inactive-or-propaganda/
https://www.scientificamerican.com/article/how-twitter-bots-help-fuel-political-feuds/
https://fivethirtyeight.com/features/who-will-make-the-third-democratic-debate-and-who-could-miss-it/
https://www.businessnewsdaily.com/6793-fake-twitter-followers.html
https://finance.yahoo.com/news/democratic-candidates-twitter-followers-140001959.html
https://www.wired.com/story/instagrams-crackdown-fake-followers-might-work/
https://www.refinery29.com/en-us/2018/11/217339/instagram-purge-fake-followers-accounts-remove
Fair Use Statement
Want to share the results of our social media analysis with your readers for noncommercial use? There's no fake news here (even if you happen to have a few fake followers yourself), so just make sure to include a link back to this page so that your audience can see all the facts for themselves.