Who Is the Florida Man?
Jeremy Renner's 2012 appearance on SNL introduced the fictional character Derek "Fat Deuce" Derek, the mayor of Tampa. The character exemplified how many view Florida: outrageous and almost unbelievable.
Presenting: the lore surrounding the media-obsessed, iconic Florida Man. Per a viral challenge from early 2019 dubbed the "Florida Man Challenge," the amount of wild behavior coming out of the Sunshine State has been publicized on a large scale. When he isn't offering beer to alligators or wrestling drunk in a suburban retention pond, Florida Man is busy making headlines nationwide from his often illegal behavior.
To uncover the extent of Florida Man's influence and the results of the "Florida Man Challenge," we surveyed over 500 participants to learn how the public's view of Florida has changed.
The Florida Man: the Man, the Myth, the Legend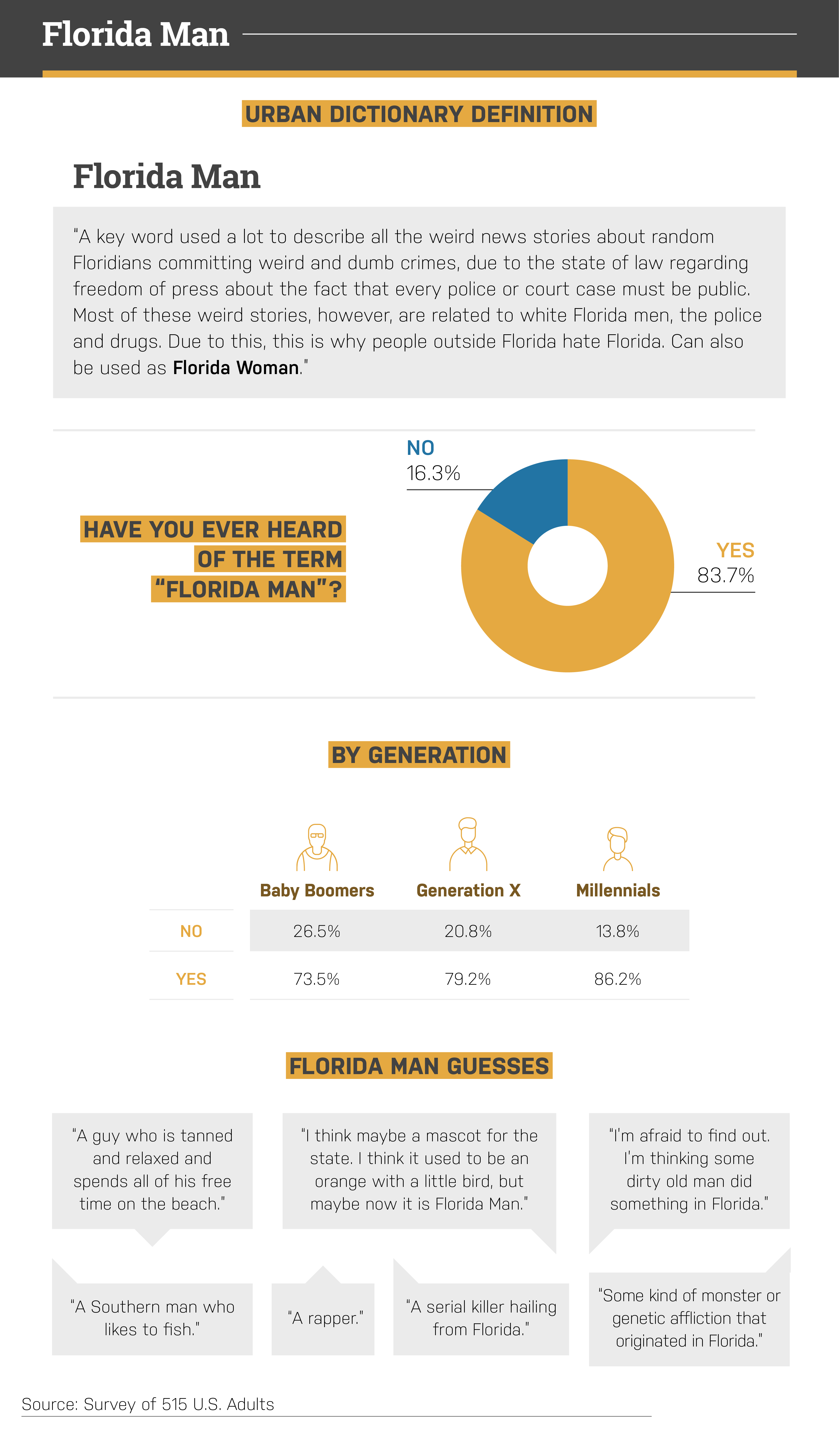 It's not entirely clear where Florida Man came from, but our respondents' guesses about Florida Man were diverse, to say the least. One thing that remains clear is Florida Man's presence: Nearly 84% of survey participants were familiar with the elusive Florida Man. Age also had an impact on our results. The younger a respondent was, the more likely he or she was to have heard of Florida Man.
The Sunshine State's commitment to transparency has allowed for all public records to be accessible. Thanks in part to the appropriately named Sunshine Laws, journalists have a unique edge when it comes to reporting on outrageous stories. In other states, media requests for information might be ignored or denied.
Perceptions of the Sunshine State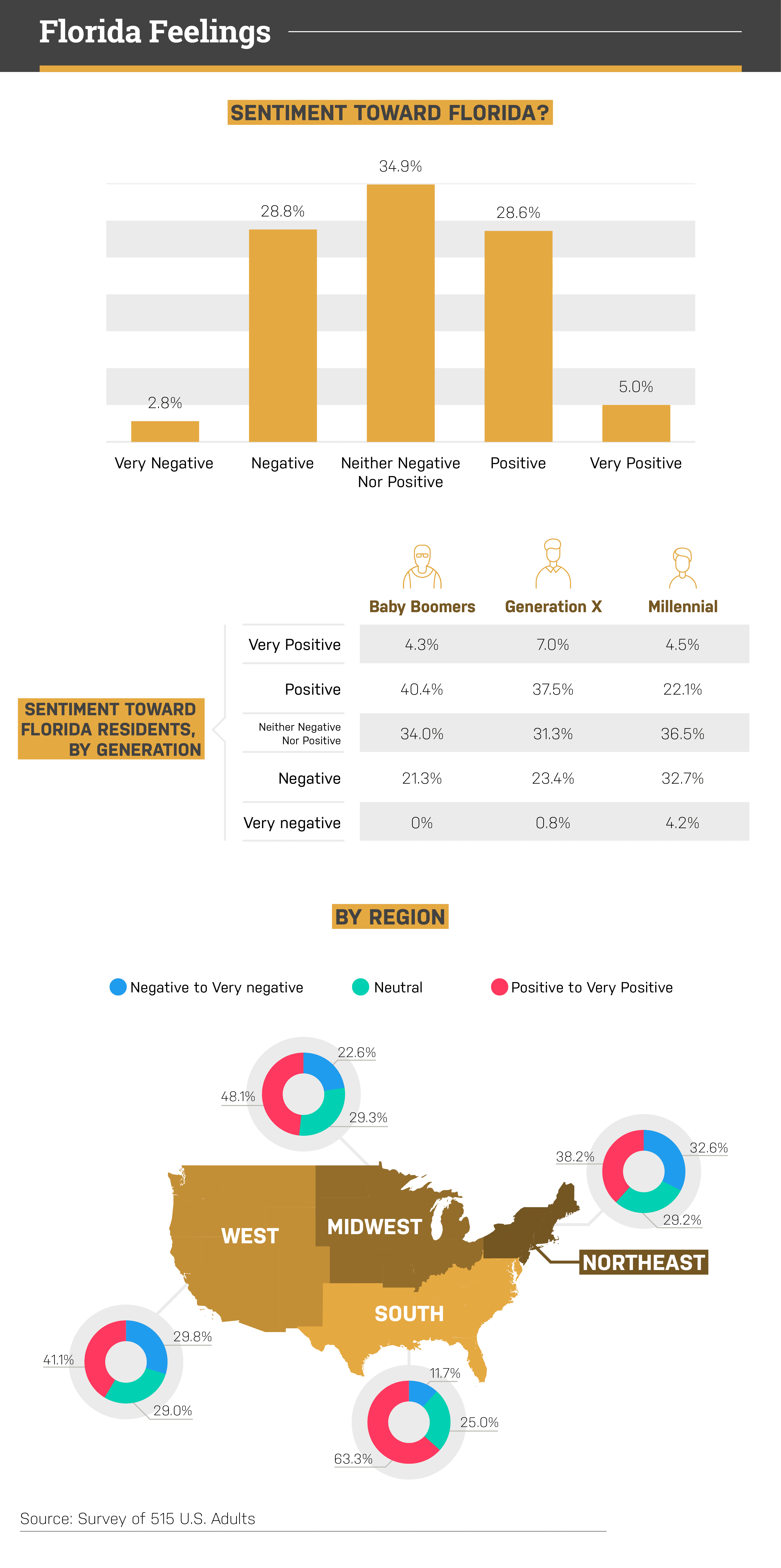 Perhaps due to Florida Man's influence on Florida's already struggling public image, younger generations are more likely to think negatively about the residents of the Sunshine State: Almost 33% of millennials thought negatively of people from Florida, compared to 21% of baby boomers and 23% of Gen Xers. However, residents in the South and Midwest were more likely to view Florida in a positive light, whereas at least 30% of Northeastern and Western respondents had negative things to say about the state.
On an episode of "Late Night with Seth Meyers," comedian John Mulaney justified the comedy world's obsession with making fun of Florida. He noted that comedy writers fall back to Florida if they're desperate for a joke, mentioning the seemingly endless list of eclectic and bizarre personality types that you can find within the state's borders. People in the South might be more sympathetic since they're relatively close to the Sunshine State.
Historically, Florida has been a haven for retirees, who exchange the hustle and bustle of their daily lives for oceanside daiquiris. Baby boomers were over 18 percentage points more likely to have positive opinions about Florida than millennials, many of who will consider Florida for their own retirement and contribute to the higher-than-average median age of the state.
Putting Respondents to the Test: Are These Headlines Real?
Since Florida Man headlines can go from reasonably believable to outrageous, we gave these headlines to survey participants to see if they could tell which are real or fake. Put yourself to the test and note your responses. How many of these headlines were actually printed, and which ones are completely false?








Spoiler alert: They are all real. Florida Man's limits have no bounds, and respondents found it difficult to tell which events actually occurred and which ones were totally made up.
The Florida Man: Consequences of a Viral Mugshot
Florida is an amalgamation of cultures, backgrounds, and people, all contributing to the state's identity. Florida's open record laws mean that any number of unsavory incidents can be broadcast, potentially causing immense harm to someone's public image.
Florida Man stories have a high propensity to go viral, which can cause irreparable harm to a person's well-being and stability, not to mention their career prospects. It's completely normal to see a wild story about "Rattlesnake-carrying Florida Man Claims to be 'Agent of God'" and laugh. However, considering Florida's reputation and journalists' access to public records, there might be more implications of Florida Man's existence than we initially thought.
Methodology
This campaign is based on the results of a survey of 515 adults throughout the United States – 254 women and 260 men.
Limitations
The analysis is limited based on self-reported information from the survey participants.
Fair Use Statement
Try the "Florida Man Challenge" and see which wild stories align with your birthday. Could it be "Florida Man Arrested with Cocaine-Stuffed Lunchables," or is it "Florida man in Spider-Man mask steals bottles from liquor store"? Share these results and have your friends do the challenge, too, but be sure to cite us when mentioning these results and share for noncommercial purposes only.