Prior to 1973, Florida was a veritable cornucopia of trial courts, second only to New York in the number of court types in the state. Orange County, home to Orlando, boasted nine different types of courts where trials could be held. Many municipalities across the state also had municipal courts, where judges were not even required to have a law degree or formal legal education.
Today, the trial court system has been streamlined into a simple two-tiered system. Florida is divided into 67 county courts, which in turn compose the state's 20 circuit courts.
Crime and trial numbers can be difficult to parse since so many different factors can impact statistics, but trial reports from Florida's circuit and county courts shed some light on the types of cases that go to trial and the particularities of different jurisdictions across the state.
Florida's county courts are familiar to anyone who has ever gone to court for a minor traffic violation. Most cases are settled by a judge out of trial, and involve traffic violations, misdemeanors, or lawsuits seeking less than $15,000 worth of damages.
While county courts do handle some trials, civil and criminal trials are usually filed in one of the state's 20 circuit courts. If a case goes to trial at the county level and is appealed, those cases are escalated to circuit courts. Circuit courts also have jurisdiction over all felony prosecutions, cases involving minors, tax disputes, estates, property boundaries, requests for injunction, and civil disputes for amounts greater than $15,000.
Florida's Population
In 2017, Florida ranked as the third-fastest-growing state in the United States. In that year alone, over 322,000 people moved to Florida – that's enough people to populate the entire city of Orlando, with about 35,000 to spare.
Most Floridians live near big cities like Miami, Jacksonville, Orlando, and Tampa, or in smaller cities dotting the I-95 corridor.
More populous counties, including Miami-Dade, account for an entire circuit court, but in rural areas, a circuit court may consist of several counties. Circuit Court 14, in Florida's rural Panhandle, consists of six counties: Washington, Holmes, Bay, Calhoun, Jackson, and Gulf.
Crimes in the State
Drug offenses are the most common type of crime in Florida. For a case to reach the circuit level, a drug charge generally needs to meet the threshold for a felony charge. The state of Florida takes a tough stance on drug crime, so simply possessing a controlled substance often results in a felony of the first, second, or third degree.
The State of Florida maintains a lengthy list of controlled substances that includes cocaine, ecstasy, and heroin, plus over-the-counter drugs including hydrocodone (Vicodin), amphetamine (Adderall), oxycodone (OxyContin), and alprazolam (Xanax).
Marijuana crimes are an exception. To be charged with a felony for possession, an individual would need to be caught no less than 25 pounds of cannabis – enough to require a suitcase to transport.
First-time offenders can sometimes plead down to a misdemeanor of a felony in the first degree (misdemeanors are not reflected in the graphic above). Specific charges vary depending on the substance and person's intent, but generally, a person intending to traffick drugs will be charged with a felony in the second degree.
Prescription drug abuse and drug trafficking may play a role in Florida's elevated number of drug offenses. The United States Department of Justice Drug Enforcement Administration notes that Florida has "high levels of prescription drug abuse" and serves as a hub for cocaine traffickers smuggling drugs into the United States.
Doctors and other health care practitioners who deliberately over-prescribe controlled substances, a phenomenon made familiar in media coverage of the opioid crisis, are charged with felony fraud or forgery on their second violation. First-time offenders can typically plead down to misdemeanors.
Criminal counts reported to the circuit courts do not include descriptions of the drugs involved in offenses, but the Florida Medical Examiner's Commission reports that in 2016, cocaine caused more deaths than any other drug in the state, followed by fentanyl and fentanyl analogs.
The Eighth Circuit Court of Gainesville is the only circuit court in Florida where drug offenses are not the most common type of criminal court filing. In the Eighth Circuit Court, 28% of criminal filings are classified as theft, forgery, or fraud cases, nearly tied with drug crime filings, which account for 27% of cases.
When a Florida minor is convicted of a crime, those cases are always tried at the circuit level, so circuit court statistics may also reflect less-serious crimes committed by young Floridians.
After drug offenses, theft, forgery, and fraud cases are the second-most-common case types in Florida's circuit courts. To constitute felony theft, the value of items stolen must exceed $750. Felony forgery constitutes falsifying a certificate or document that carries legal proof and is a third-degree felony.
Crimes against persons is a catch-all category and includes anything from kidnapping and stalking to hate crimes, domestic violence, and battery.
Property crime counts filed in circuit courts are relatively rare compared to other types of crime. The Florida Department of Law Enforcement's property crime statistics include crime incidents reported to the police each year. Not all of these incidents are charged in Florida's circuit courts, but the department's data does show that overall property crime in Florida has steadily dropped over the past two decades.
Population and Criminal Activity
It should come as no surprise that Miami-Dade County, home to Miami's bustling metropolitan area, has a higher number of criminal filings than rural areas of Florida. The area is so popular as a port of entry for drug traffickers that nearly 70 Florida police departments and government agencies, including the Coast Guard, Secret Service, and Postal Inspection Service, banded together to establish the South Florida High Intensity Drug Trafficking Area in 1990. The agency aims to combat gangs and violent crime associated with the drug trade, as well as money laundering operations and offshore shell companies set up to move drug money.
Florida's Sixth Circuit Court, on Florida's western coastline just north of Tampa Bay, also has a high number of total filings, but dispositions at the circuit court level only tell part of the story. The circuit is home to Pinellas and Pasco counties, which have very different crime rates, yet both counties are lumped into the same circuit-level statistics. Crime rates use data collected by local police departments to determine the number of crimes committed per 100,000 people.
Overall, crime in Pinellas County dropped by 15% in 2018, but the county still has crime rates well above the national average: Just shy of 3,000 crimes per 100,000 people. Pasco County, on the other hand, experienced crime at two-thirds the rate of Pinellas.
Leon County, which contains Tallahassee, does not have a particularly high number of criminal filings at the circuit court level, yet has ranked as Florida's highest-crime county for five years running – though crime rates are dropping. The Tallahassee Democrat reported that State Attorney Jack Campbell attributed the high crime rate to Leon County's young population, the county's economic challenges, and the fact that Leon County is an urban island in a sea of rural counties.
Heading to Trial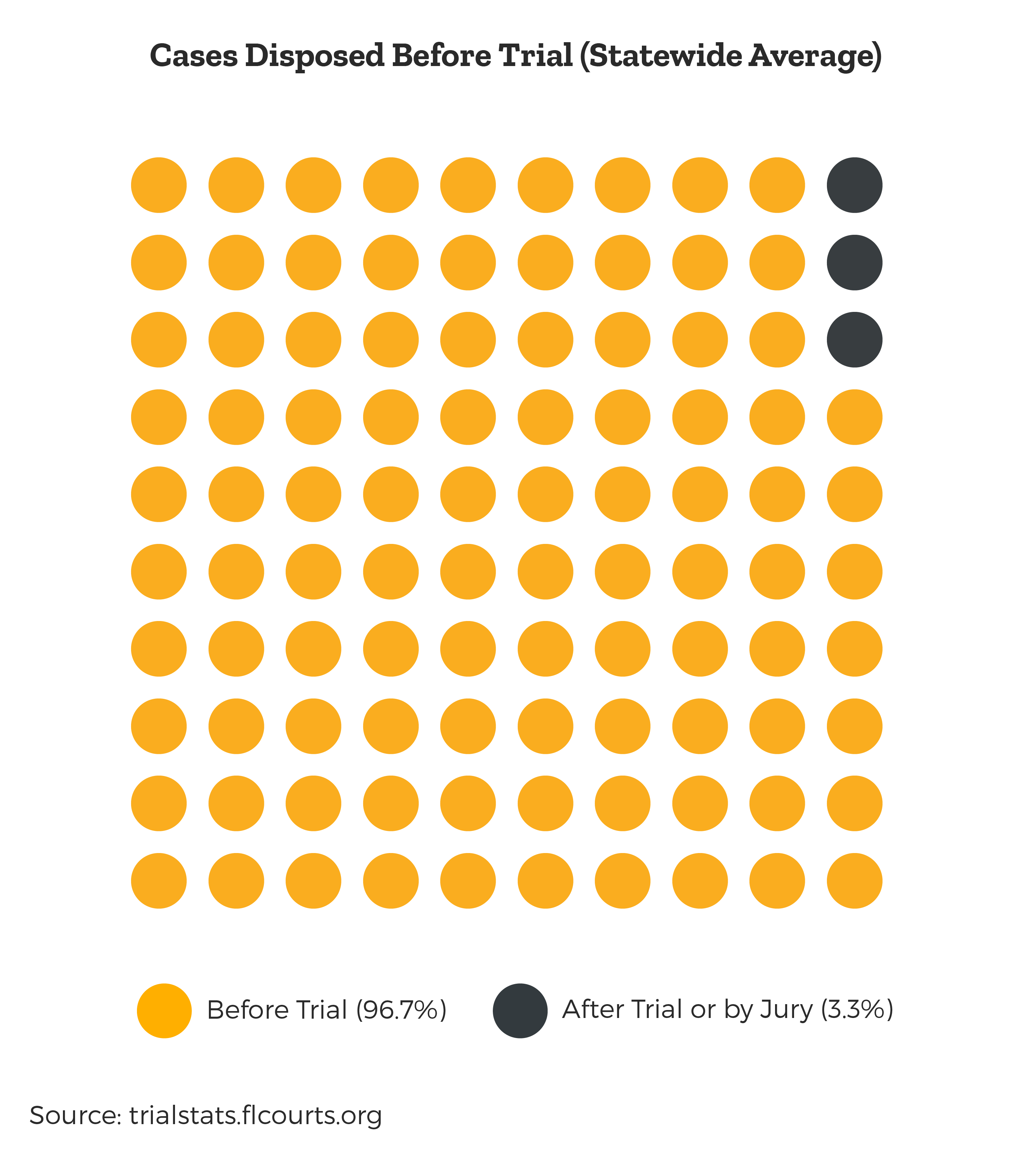 Out of every 100 criminal filings in Florida, only three will actually go to trial. In the past year, 96.7% of trial cases in Florida were settled before going to trial – generally through a plea deal, though cases are sometimes also dismissed or transferred.
Conventional trial wisdom states that around 95% of all cases settle before reaching trial, making Florida's rate of cases settled before trial well within the norm. In 2018, the National Association of Criminal Defense Lawyers reported that criminal trials may be on the decline due in large part to "trial penalties," where defendants who choose to go to trial are penalized with much higher potential sentences if they lose than if they were to reach a settlement before going to trial.
Settling after trial but prior to a jury verdict is the least common form of settlement. Just 1.5% of cases statewide are settled at this stage, and again, plea deals are the most common resolution. Duval County, which acquitted 27 cases between June 2017 and June 2018, is the most notable exception to this trend. Hillsborough County also had a relatively high rate of acquittals, reporting five acquittals but just one plea and two convictions over the one-year span.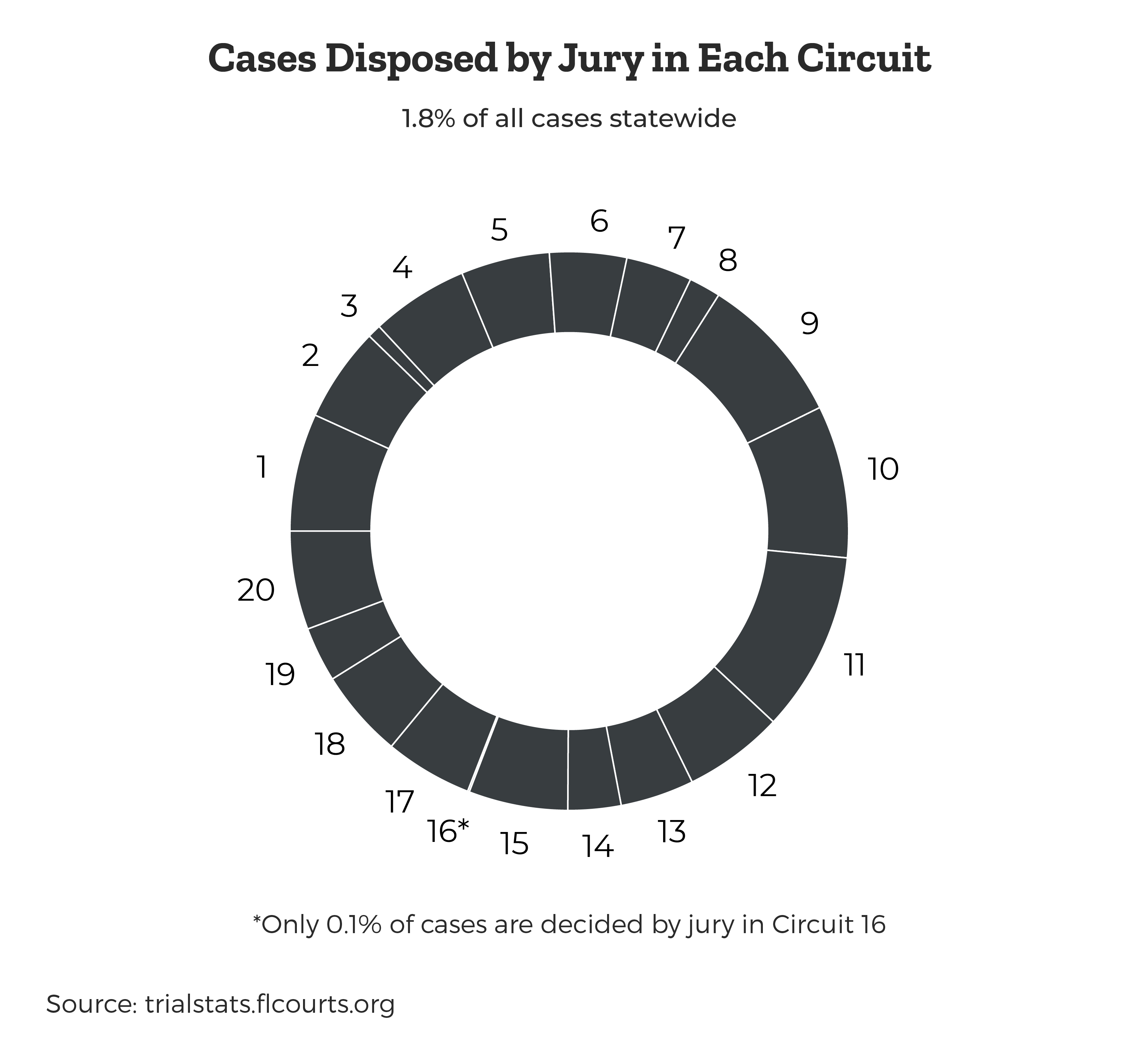 Of the 1.8% of cases that do go to trial and are settled by a jury, most result in a guilty verdict. Statewide, the jury returned a guilty verdict in two-thirds of all cases. Just over a quarter of cases resulted in acquittals, and the remainder were pleas.
Circuit courts nine, 10, and 11 – which include Orlando, Lakeland, and Miami-Dade, respectively – handled more trials than any other circuit court in the state. These circuits represent Florida's most populous counties.
Key West's 16th Circuit Court reported just seven trial cases over a 12-month span. That adjusts to nine trials per 100,000 people, making it the circuit with by far the fewest trials of any of Florida's circuit courts.
Tallahassee reported half as many trials as Miami-Dade, but per capita, there are more trials in Tallahassee's Second Circuit Court than anywhere else in the state. With 92 trials per 100,000, Tallahassee tries criminals at more than triple the rate of Miami-Dade, which averages 25 trials per 100,000 people.
Many of Florida's circuit courts average 20 to 50 trials per 100,000 people. Outliers include the 10th Circuit Court (76 trials per 100,000 people), the 14th Circuit Court (69 trials per 100,000 people), and the First Circuit Court (57 trials per 100,000 people).
The sixth and thirteenth circuit courts near Tampa Bay follow Key West in the lowest number of trials per capita – 21 per 100,000 people. In addition to their adjacency, the two circuits both reported roughly 300 trials, and both have populations just shy of 1.5 million.
Circuit trials per capita do not necessarily correspond with crime rates overall. Tallahassee is a hot spot for crime in an otherwise low-crime circuit, which could help explain the high number of trials.
Guilty Verdicts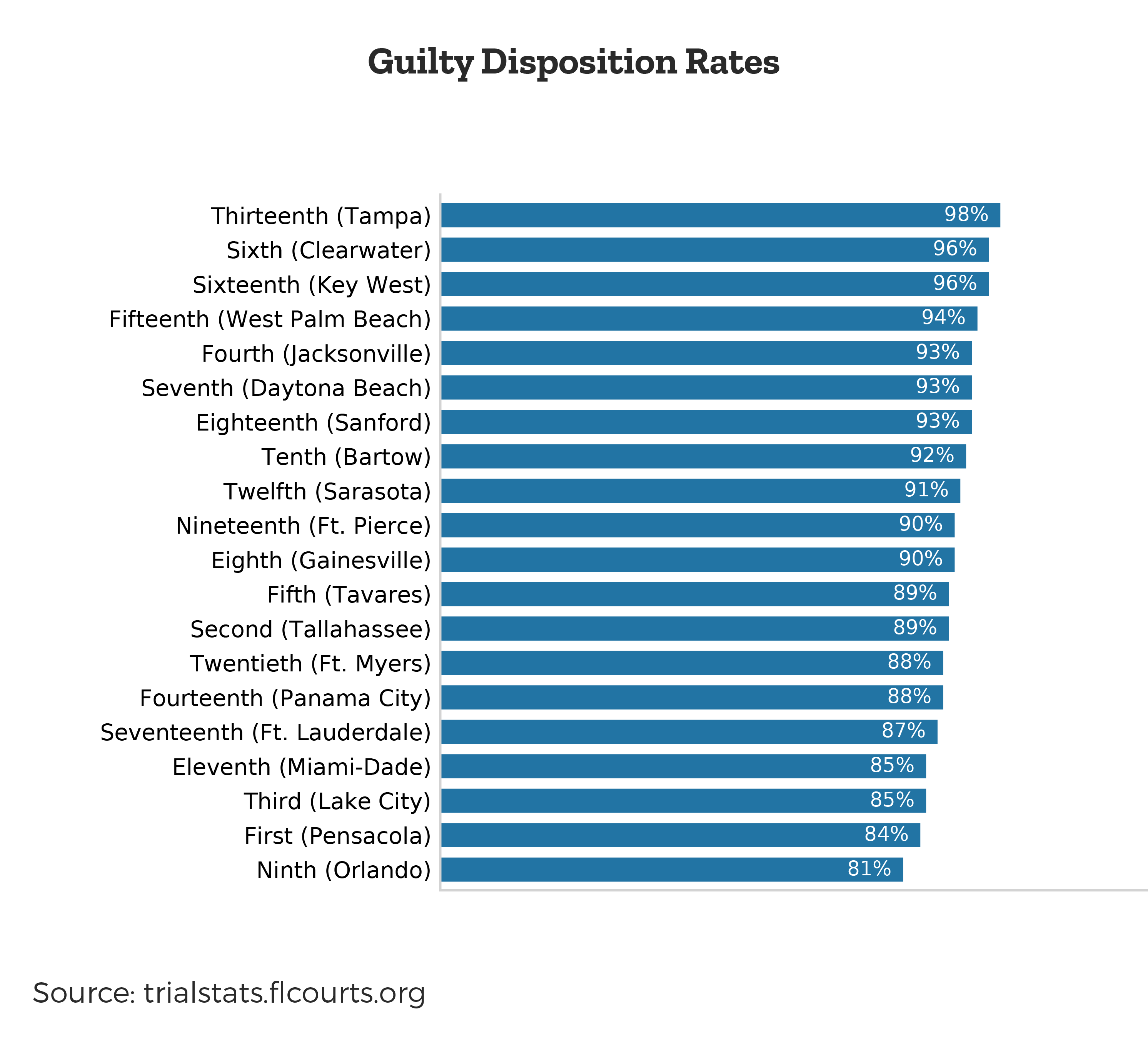 Florida's guilty disposition rates appear striking – but as Florida Courts, the reporting system for the state of Florida notes, "Jury trial and guilty disposition rates are not intended as a measure of efficiency of the judiciary, state attorneys, or public defenders."
That's because the particularities of every case, the attorney, and the judge all play into a guilty or not-guilty verdict. By and large, however, the high rate of guilty verdicts in the state of Florida can be explained by the number of cases settled with plea deals prior to going to trial.
As noted above, juries tend to deliver guilty verdicts more often than acquittals, and if trial penalties result in a higher potential sentence for a crime, taking a plea deal may be the best course of action for a defendant.
Being Called for Jury Duty
Plenty of people don't show up at all for jury duty – either because the DMV does not have updated contact information for them, or simply because they do not want to. A person is required by law to respond to a jury summons or face penalties, which vary by state. Some states have gone so far as to instate fines for jury duty delinquency.
In Los Angeles, only about 5% of jurors summoned showed up to the courthouse for duty.
Out of those who actually make it to the courthouse, not all are selected to sit on a trial. Some are dismissed because they cannot rule objectively on the case, and some may be released if they fear retribution from their employer for missing time from work for the trial. Employers are not allowed to fire employees for completing jury duty. Juror compensation in South Florida is $15 per day for the first three days of trial and $30 per day thereafter, for anyone not compensated by their employer for serving.
The ratio of people available to serve on the first day of a trial compared to the number of people who were summoned for jury duty is called the juror summoning yield. A low yield may indicate a court that is too lenient in dismissing jurors who do not wish to serve.
Courts generally measure summoning yield over a five-year period. A slow economy with more people working part-time or via side gigs may reduce summoning yield since workers fearing for their job security cannot afford to take time off from work, or their schedules simply do not allow time for jury duty. Consistently low yields over time, however, may indicate that a court should review and modify its jury selection procedures.
Methodology
Data were gathered from the Florida criminal court system, U.S. Census Bureau, and U.S. Centers for Disease Control and Prevention. The map displaying jury summoning yields reflects January through March 2019, and though the court system recommends using a five-year average to analyze summoning yields, that data are not currently available on their website. Regarding the maps, when county-level data were not available, circuit-level data were applied to each county in the circuit. Datasets were combined and cleaned using the Python 3 pandas library and visualizations were created using Flourish and matplotlib.
Sources