How Do We Define Crime?
A crime could be defined as any act or failure to act as defined by a penal code, of which an offender may be punished by a government or public entity.
In many societies dating back to ancient times, a crime required a mental state (mens rea), plus an affirmative act (actus reus, a step taken toward committing the crime).
What is Criminal Negligence?
This definition has expanded over time to include other types of crimes, such as criminal negligence, which may be a crime without the offender having the intent to commit a crime.
What Is Criminal Attempt?
It is worth noting that a failed attempt at committing a crime may still be considered a crime. For example, a person who shoots at someone without an excusable reason to do so and misses may still be convicted of the crime of attempted murder.
Misdemeanor vs Felony
The two main categories of crimes are misdemeanors and felonies. The main difference between these types of crimes is that felonies are punishable by one year in jail or longer.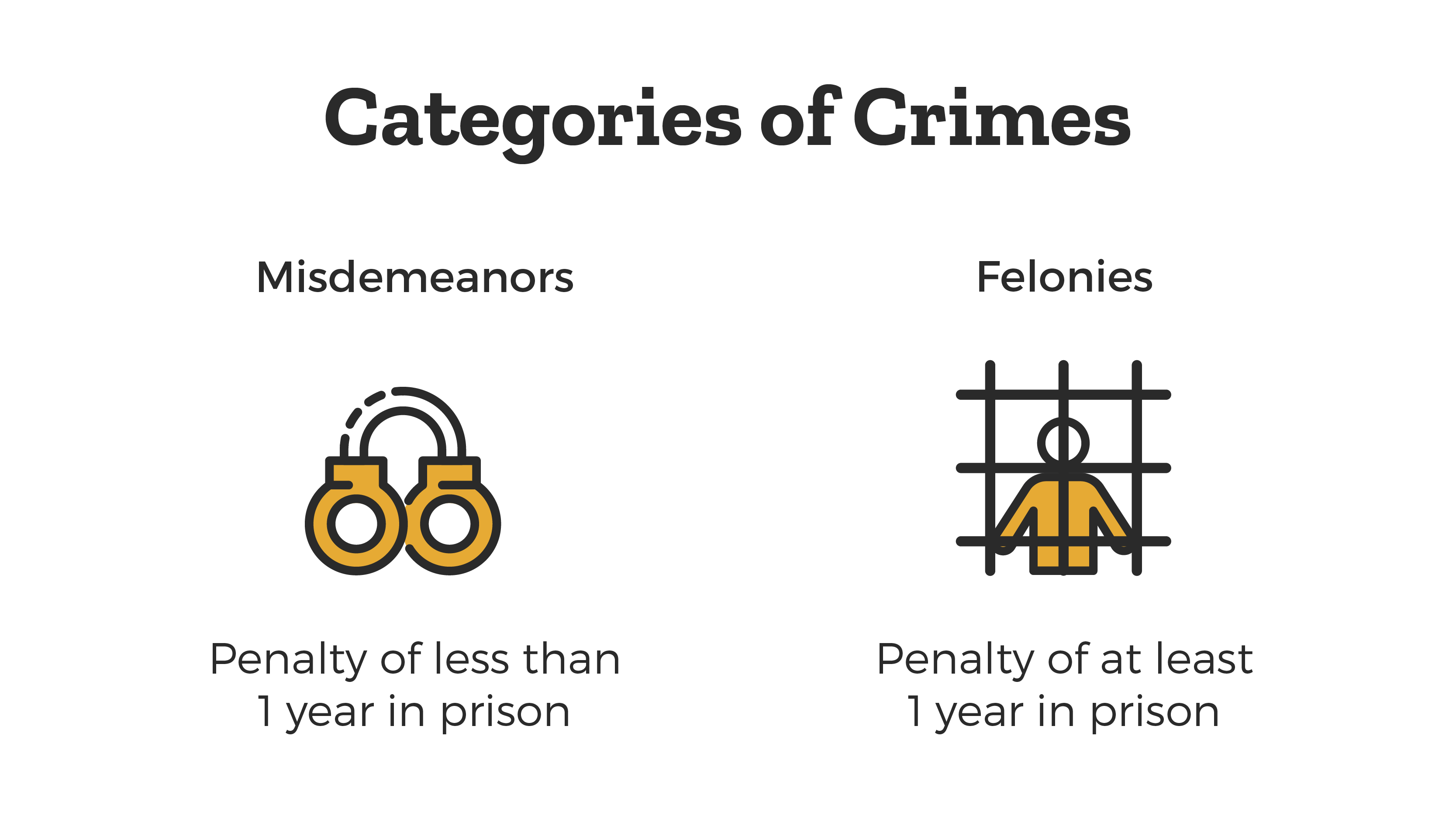 What Is A Criminal Justice System?
The purpose of the criminal justice system is to enforce criminal law and to rehabilitate those who commit crimes. This system exists and functions at several different levels according to geographic borders.
What Is Jurisdiction?
These levels are called jurisdiction, and all law enforcement officers and courts are limited to enforcing the law within them. Specifically, law enforcement agencies have power given to them by their respective governments to enforce laws at municipal, county, state, and federal levels. In some cases, certain laws also may be enforced outside of the United States.
How Are Local Laws Enforced?
Law enforcement agencies that have been granted power to enforce the law and make arrests are largely known as police.
Who Enforces National Laws?
The power of enforcing laws at the national level has been constitutionally guaranteed to the executive branch of government through the United States Department of Justice (USDOJ).
The USDOJ is composed of federal law enforcement agencies that enforce many different types of criminal law, such as the:
Federal Bureau of Investigation (FBI)
United States Department of Defense (USDOD)
Bureau of Alcohol, Tobacco, Firearms and Explosives (ATF)
What Is An Arrest?
The event during which a defendant is physically detained to be charged with a crime is called arrest. Arrests may be made by police with or without permission from a court.
What Is A Criminal Warrant?
When a court grants written permission to make an arrest, this is what is called a warrant.
What Is Probable Cause?
Arrests made without permission from a judge must be made based on a certain amount of evidence. This level of proof is referred to as probable cause.
Probable cause may be an eyewitness' account of the crime or the officer personally witnessing the crime. Police are permitted to search for evidence of a crime before making an arrest.
However, these searches have limits. For example, the Supreme Court decision in the case of Terry v. Ohio strictly limits police searches to the outside of a suspected person's clothing when searching for weapons.
Searches that violate these types of legal limits may be disregarded and not used against the defendant during the charging process, based on what is known as the exclusionary rule.
What Is A Criminal Charge?
The process of formally enforcing criminal law begins with a process known as charging. A person who has been formally accused of a crime is referred to as a defendant.
A determination to charge a defendant with a crime does not mean that they will be instantly considered guilty. The accused are presumed to be innocent until proven to be guilty.
What Are Miranda Rights?
Defendants have many rights, and these rights must be read to the accused person when they are arrested, as decided in the Supreme Court's decision in Miranda v. Arizona.
Miranda rights include:
The right to remain silent when questioned by police or at any other time.
Defendants also have a right to have an attorney with them during police questioning and at every stage of prosecution.
Defendants may hire any attorney whom they wish to defend them.
What Is A Criminal Trial?
Police enforce laws based on evidence that relates to the commission of crimes. The job of the courts is to evaluate this evidence. This procedure is called a trial.
U.S. Court Structure
Federal Courts

1 – U.S. Supreme Court
13 – U.S. Courts of Appeals (12 regional, 1 national)
94 – U.S. District Courts

State Courts – each state has

1 – Supreme Court
Court of Appeals
District Courts
County Courts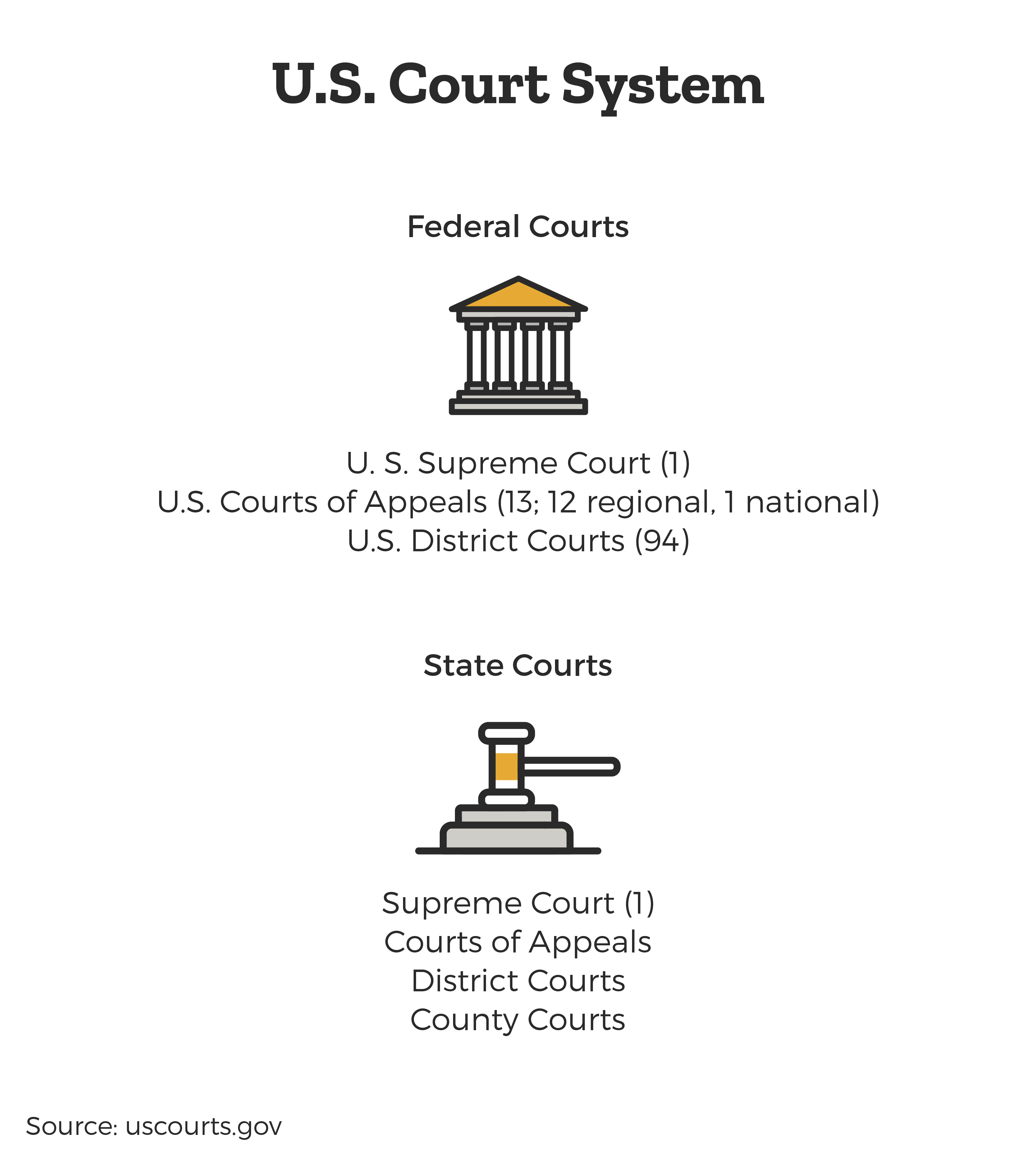 Criminal Prosecutors
Lawyers who are employed to present the government's evidence are known as prosecutors.
Defense Attorneys
Attorneys are employed by the state or by defendants. Defense attorneys are tasked with disproving the prosecution's evidence. The U.S. Constitution states that defendants who have been charged with a crime that is punishable by incarceration (and only in such cases) may be provided attorney representation at no cost to them if they cannot afford one.
Defendants who unsuccessfully defend themselves against their charges may be sentenced to prison.
What Is A Criminal Plea?
In general, an accused defendant must tell the court whether or not they have committed the crime(s) charged (if the defendant wishes to avoid being penalized by default). This process is called making a plea.
The defendant may:
Plead guilty
Plead not guilty
Plead no contest
Admit that he or she committed the crime, but did so because of a reason or reasons that should be excused (Affirmative Defense)
What Is a Plea of Guilty?
They have committed the crime.
What Is Plea of Not Guilty?
They will try to overcome criminal charges by presenting evidence that suggests he or she did not commit the crime charged.
What Is a Plea of No Contest?
This basically means that the defendant does not contest the charges, but also does not deny them. This type of plea may give a defendant a certain advantage(s) in other legal proceedings related to the circumstances of the crime, such as when defending a civil prosecution.
What Is An Affirmative Defense?
These excusable reasons are known as affirmative defenses. Affirmative defenses include self-defense, insanity, necessity, or acts of God. These types of defenses must be submitted to the court in writing and evaluated by the court before trial.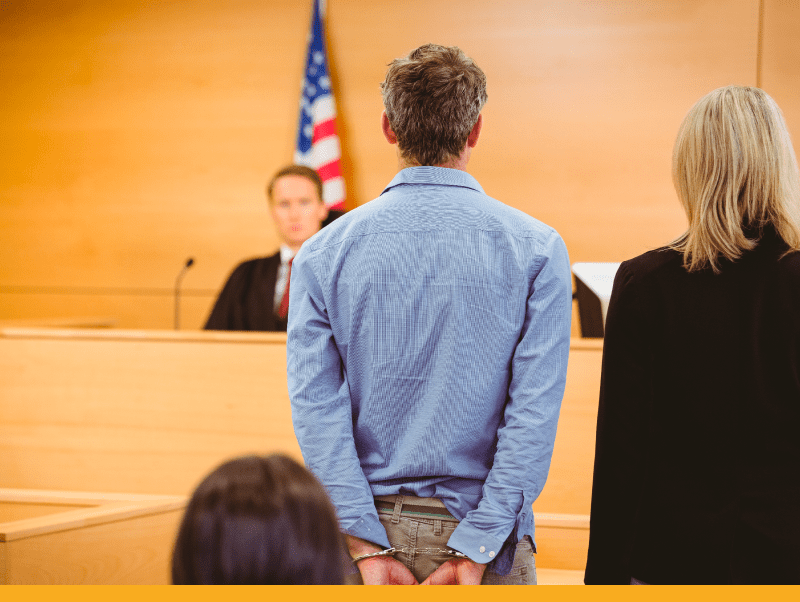 Every defendant must be given an opportunity to defend themselves against incrimination, known as due process.
What Is Reasonable Doubt?
All crimes must be proven to have been committed by the accused beyond a reasonable doubt. In other words, no reasonable person could doubt that the defendant committed the crime.
What Is Sentencing?
If a defendant is found guilty after a trial, the court must also determine and deliver appropriate punishments for these offense(s). This process is known as sentencing.
What Are Prisons?
Prisons house offenders for different lengths of time. Offenders can be grouped together based on their type of offense and perceived risk of danger to society.
For example, offenders who commit serious violent crimes may be housed in the same prison in any given jurisdiction. Offenders are also evaluated by experts to determine the possibility they may commit more crimes.
What Is The Death Penalty?
In more serious cases, defendants may be put to death for committing certain crimes. This has been traditionally called the death penalty.
The death penalty has been a highly controversial issue in the United States since it began. It is also subject to more strict standards of legal process than other criminal cases and usually involves a lengthy and costly appeal process.
As a result, the death penalty is not practiced in all states, as it has been viewed by many states to be a form of cruel and unusual punishment, and thus, forbidden by the Constitution.
Which States Allow Capital Punishment (Death Penalty)?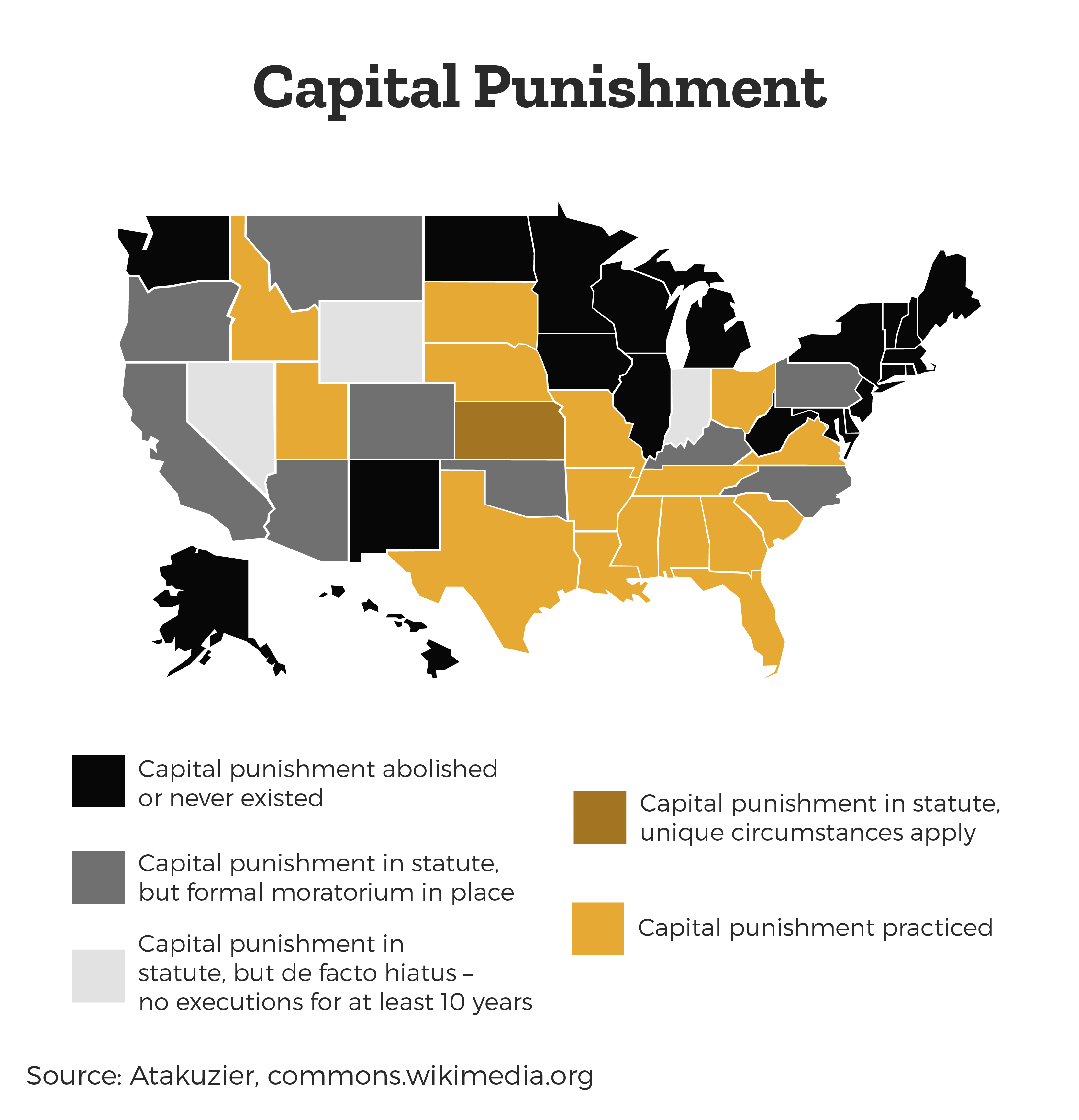 What Is Prisoner Rehabilitation?
There are different programs in place designed to reduce the chances of the offender committing more crimes. This process is known as rehabilitation.
Defendants who have been deemed to be rehabilitated are often released from prison early (before the end of their sentences) in the interest of encouraging good behavior and reducing overcrowding.
Alternative Criminal Sentencing
Over the years, sentences for crimes have become much more creative in response to challenges such as prison overcrowding, budget restrictions, and high rates of recidivism (repeat offenses).
What Is House Arrest?
A form of incarceration that physically confines an offender to their home or to the state where the offense occurred.
What Is Community Service?
Offenders may also be required to perform a certain amount of unpaid work, such as cleaning roads or other forms of public service. These types of penalties are called community service.
What Is A Criminal Fine?
Offenders may also be ordered to pay financial penalties known as fines.
What Is A Parole Officer?
The offender is also required to report to an officer who will oversee the offender's release into the community and monitor their activities. This system is generally referred to as community supervision.
Appealing Criminal Decisions
All defendants have a right to have another court conduct a review of the legal procedures that were used during prosecution. This type of review is known as an appeal.
For purposes of reversing mistaken convictions, all appeals are to be performed by courts with greater authority than trial courts. Notably, courts of appeal do not consider the weight of the evidence presented at trial. Instead, they may only look for procedural errors made by lower courts. These errors may lead to a conviction being reversed.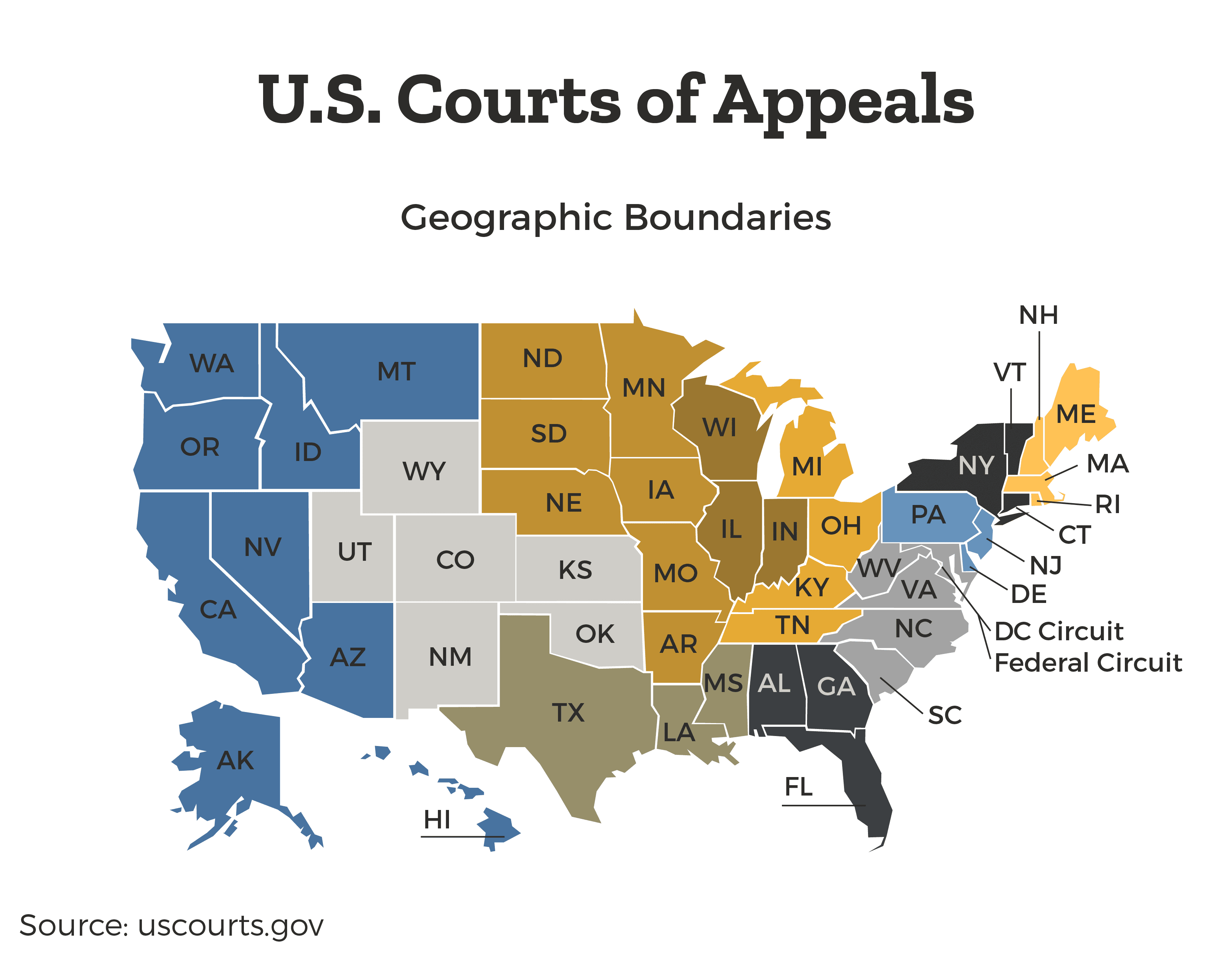 What Is Habeas Corpus?
Convicted defendants are often released from prison based on a finding that they were put in jail by mistake. This is often accomplished by submitting a petition to the court where the defendant was convicted. This is known as Habeas Corpus.